Ross County 1-1 Hearts: Arnaud Djoum out for 'seven or eight months'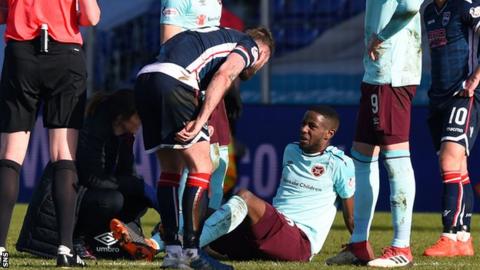 Hearts manager Craig Levein says midfielder Arnaud Djoum could be out for "seven or eight months" after snapping his Achilles.
Djoum suffered the injury as he ran unchallenged during the 1-1 draw with Ross County in Dingwall.
"He is just back from injury and has had a tough time for it," Levein said.
"As much as I'm disappointed as he is a really good player, I really feel for the boy. He has had enough to contend with recently."
Levein was frustrated that his side only took one point from their journey north, having taken the lead through Kyle Lafferty's free-kick.
Jason Naismith equalised for the hosts late on, but the Hearts manager was more concerned for Djoum, after the 28-year-old Cameroon international was stretchered off during the first half.
"It's disappointing to have been in a winning position and lost two points, but that's nothing in comparison to the disappointment for Arnaud," Levein said.
"It's a case of the tendon being weak at some point. He has planted his foot and it (the Achilles) snapped.
"A similar thing happened to John Souttar just over a year ago. He has returned in great condition and got himself back to full fitness and the top of his game and hopefully Arnaud can do the same."
Levein also revealed that he spoke to Esmael Goncalves on Thursday, after the striker revealed following his departure from Hearts that he had been the subject of racist abuse from a group of fans.
"I managed to catch up with him I apologised for what had happened and for the fact that he didn't feel he could come and speak to me at the time," Levein said.
"That's on me and something I'm disappointed about. It's important the players feel they can come and talk to me about anything. That's something I need to address.
"I spoke to everybody and stressed that if they have any issues at all - racism's at the top of the list because it's just happened - but anything at all come and talk to me. The club's helped a lot of players in the last there and a half years and it's important we're here to support the players."