EFL Trophy: League chief Shaun Harvey 'wanted Lincoln to beat Chelsea'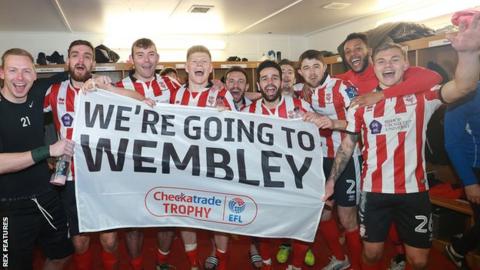 The EFL's chief executive "wanted" Lincoln City to beat Chelsea Under-21s in the EFL Trophy semi-final, saying "they are one of our clubs".
Shaun Harvey said the Imps' victory would be better for the competition.
Lincoln reached the final after defeating Chelsea Under-21s 4-2 in a penalty shootout after drawing 1-1 on Tuesday night.
"I didn't want Chelsea's participation to take away from what our clubs are trying to achieve," he told BBC Sport.
"I am absolutely delighted that Lincoln did beat Chelsea."
Harvey also said that while the Premier League is considering implementing a winter break, it "would not be effective" in the EFL.
'It was a gamble worth taking'
The Imps will play at Wembley for the first time in their 133-year history in the final on Sunday, 8 April, where they will face either Shrewsbury or Yeovil.
Chelsea had been bidding to become the first academy side to reach the final since 16 Category A development squads were admitted into the EFL Trophy last season.
Supporters of some clubs boycotted the competition in response to their inclusion.
"There is no doubt that the final between two EFL clubs is certainly the outcome we would have all wanted to see, both at the start of the competition and as the penalty shootout was being taken last night," Harvey added.
"Everybody enters into this competition knowing the outcome could be an under-21 side gets in there.
"The balance of the benefits to the game as a whole, financially to our clubs and from an experience perspective for the young players make that gamble worth taking."
'The EFL won't observe a winter break'
The German Bundesliga, Spain's La Liga, Italy's Serie A and France Ligue 1 are some of the leagues in Europe to have a winter break in their schedules, and the Premier League is also considering introducing one when the next television rights deal is agreed.
In a statement, the Premier League said it had been "in discussions" with the EFL and the FA, but, due to the intense calendar of the EFL, Harvey says it is not feasible for a winter break to be rolled out below the top flight.
"We have been involved in the discussions to start with. The EFL won't observe a winter break," said Harvey.
"We have a 46-game season. We need as many Saturday 3pm kick-offs as possible.
"The reality is if it is about giving the England internationals a break at the Premier League clubs, we can carry on without negatively impacting on that objective."