Caf president Ahmad plays down controversy over Ngaissona election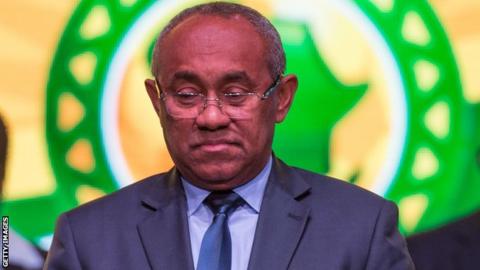 The Confederation of African Football (Caf) president, Ahmad, has played down the controversy surrounding the election of Patrice Edouard Ngaissona to the executive committee of African football's governing body.
Ngaissona, a former militia leader from the Central African Republic (CAR), was the self-declared political co-ordinator of the anti-Balaka militias.
In 2015 he was barred from running for CAR president because of his alleged role in atrocities, which he denies.
Caf delegates, meeting in Casablanca on Friday, elected Mr Ngaissona to represent the Central Zone over his Gabonese rival, Pierre Alain Mounguengui.
Caf president Ahmad told BBC Sport that the furore over Ngaissona's appointment is unwarranted.
"This man, I saw in the social media some people trying to destroy him. In French we call it, 'présomption d innocence,' said Ahmad in Casablanca, ahead of the African Nations Championship (CHAN) final between Morocco and Nigeria.
"I don't know if these people know that for the integrity checks at Fifa, he passed this integrity check.
"He is in the one committee in Fifa in his country - he can occupy a big position.
"How to talk these kinds of things? For me, I don't think about these kinds of things," Ahmad added.
Mr Ngaissona is head of the CAR's football federation and briefly served as sports minister.
He has denied claims by human rights groups that he was involved in atrocities in the CAR.
Ahmad insisted there is no issue to address and that no review is needed into Ngaissona's election.
"Review for what? In life, in management, you have to review every time, everything. That's necessary in administration to go up."