Leeann Dempster SFA link 'not surprising' - Neil Lennon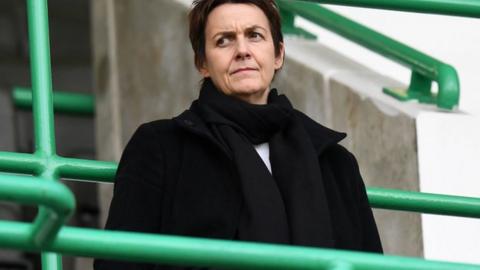 Hibernian boss Neil Lennon says he is "not surprised" to see the club's chief executive Leeann Dempster being linked with the Scottish FA's vacancy.
Stewart Regan stepped down on Thursday after eight years in the role, with the governing body now seeking a new chief executive and Scotland manager.
"She's very, very good at what she does," Lennon said of Dempster.
"It doesn't surprise me that her name's being linked but we all hope here [at Hibernian] that she doesn't go."
Scotland missed out on qualification for the 2018 World Cup and are searching for a new boss after Gordon Strachan's departure in October.
Lennon expressed surprise at Regan's departure and said his decision to step down has "left a gaping hole" at the top of Scottish football.
"I don't know the thought process behind it, but there's a huge vacuum there now that needs to be filled and filled very quickly," said Lennon.
"There's a national manager to find and someone to actually get a hold of things to actually run the game accordingly on a more professional basis."
When asked about Dempster's work as a chief executive and her suitability for a similar role at the SFA, Lennon said: "If you look at what she's done at Motherwell; you look at the turnaround here… I've got a very good relationship with her professionally.
"But you'd need to ask Leeann the question. I don't know what role the SFA are looking for in terms of their chief executive."
Motherwell chief operating officer Alan Burrows worked with Dempster when both were at Fir Park and Burrows believes Dempster would be an ideal candidate to replace Regan.
"I think Leeann is an outstanding operator," Burrows told BBC Scotland. "I think she is somebody who can inspire people, who challenges the norm. She is an ideas person. She is open as well, and what is key is she can bring people together.
"Leeann would be a fantastic candidate, she had Motherwell in the Champions League, she had Motherwell with consecutive second-place finishes, she won the Scottish Cup with Hibernian and got them back to the Premiership and she's been at the heart of that."
Burrows believes Scottish football is at a crossroads following Regan's departure.
"I really think we need to have a look at the association," he explained.
"Is what is in place the right system for Scottish football? It's a very regimented, very structured system; quite an inflated system with lots of clubs. At times I think the chief executive struggles to stamp their authority on the role.
"We maybe need some fresh thinking, some fresh blood in that environment, someone who would get what it's like to be at a club.
"When you look at administrators of the game in this country, very few have experience of day-to-day operations at a football club. I'd like the next chief exec to have that experience."