Scottish game desperate for reform, says Henry McLeish
Last updated on .From the section Scottish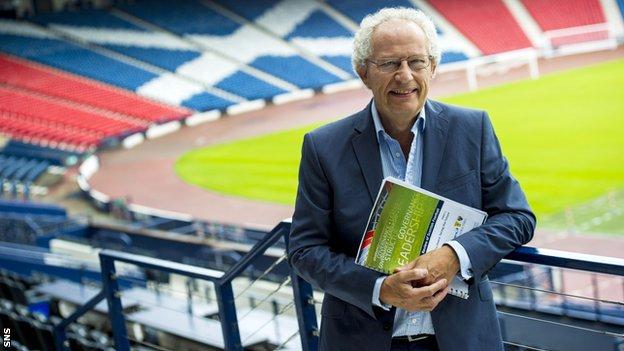 Former first minister Henry McLeish says Scottish football "is in desperate need" of reform following Stewart Regan's resignation.
Regan left his post as Scottish FA chief executive on Thursday after nearly eight years in the role.
McLeish authored a two-part review of Scottish football in 2010 and many of his recommendations have been implemented by Regan.
"There are far too many agendas in Scottish football," said McLeish.
"Stewart Regan has achieved a lot. This is a difficult road to travel. It's centralised, it's insecure in Scotland, it kind of circles the wagons.
"It's got to re-engage with the outside world, it's got to modernise further.
"We need figureheads but the game is in desperate need of further reforms and relationships with government, relationships with fans, relationships with the game - it all needs to be looked at."
'More power for the job'
Regan's departure follows the SFA's unsuccessful attempt to recruit Northern Ireland manager Michael O'Neill as Scotland boss and controversy over planned friendly matches for the national team in Peru and Mexico this summer near the time Scottish clubs will have European qualifiers.
McLeish's review looked at youth development and the governance of the game.
The SFA introduced a performance strategy for youth football and the country's governing bodies were reduced from three to two with the Scottish Professional Football League replacing the Scottish Premier League and Scottish Football League organisations.
However, the SFA's performance director post has been filled three times under Regan with former Cardiff City manager Malky Mackay currently leading the rebranded Project Brave programme for youth football.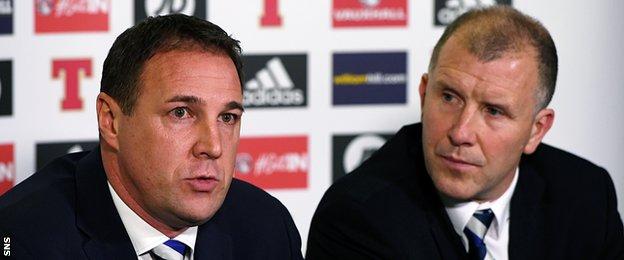 "It's crucial that the balance between the SFA and the SPFL is rebalanced so therefore in terms of power, in terms of finance and who does what," explained McLeish on BBC Radio Scotland's Good Morning Scotland.
"Project Brave is a classic example. It's changed dramatically over the last 12 months because of the influence of the big clubs. I don't believe that Project Brave now serves the best interests of Scottish football as it moves forward.
"That's the kind of thing we've got to look at - more power for the job, as well as having somebody influential and prominent to take that job.
"Whilst I'm not surprised at what is happening, this is a tough job and once again Scotland is in a kind of make-or-break situation - 20th year of commiserating about not qualifying [for a major tournament], no [Scotland] manager, no chief executive.
"What we've got to make sure is that we look further than personalities. Yes, I think Stewart Regan provided a lot of credibility for the game. He was a moderniser, he had our best interests at heart but let's not believe for a minute that the future of Scottish football can revolve around one person or two people. This is collective.
"It's a period of failure when you reflect on where we are in terms of Scottish football, whether we should put it down to the personal failure of one person I think would be quite wrong.
"This is the trouble of Scotland, we obviously see a situation where [former Scotland manager] Gordon Strachan didn't qualify [for the World Cup and Euro 2016], he has to leave; we see a situation with Stewart Regan where there are issues around the national stadium, about the appointment of the manager, he has to move.
"Okay, we reviewed the game in 2010 and I think at that time we went as far as we could in terms of the art of the possible. Now, I think we have to constantly reform the game."