Swansea recruits Andre Ayew and Andy King have 'quality and attitude' - Carvalhal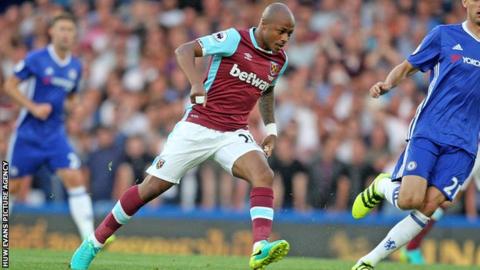 Carlos Carvalhal says he prioritised the transfer deadline day signings of Andre Ayew and Andy King because of their desire to play for Swansea City.
The manager said his signings showed the desire to help the Swans fight for Premier League survival.
"If I bring players with quality who don't want to be here it will not help us, these players will," he explained.
"They are the players who really wanted to come here, who really want to come and play for Swansea."
The Welsh side were linked with several players in January and were understood to be keen on signing Atletico Madrid winger Nicolas Gaitan as well as Liverpool's Lazar Markovic.
But instead it was Ghana striker Ayew who rejoined Swansea from West Ham for a club-record fee of £18m, while Wales midfielder King arrives from Leicester City on loan until the end of the season.
"They said a lot that they wanted to come here, it came from deep (inside the players' hearts) and that was crucial and that is what we want," Carvalhal added.
"If they come with the attitude to help the team we will be stronger and also they have the quality to help us.
"We want players who want to be here."
No stars, no problem
While the arrival of King and Ayew provide a boost for the Swans, Carvalhal admits they could have signed more players.
However, the former Sheffield Wednesday boss is adamant that the club did not need to pursue star names, who could upset the balance of his squad.
"We live with the reality. We are happy with players we have and happy with the players we bring in," he explained.
"All coaches would like Lionel Messi or Cristiano Ronaldo. But football is not all about names, about connections. We can achieve something when we work together.
"We need workers. We are must be strong as a team. We need team workers. Ayew and King are team workers but they also have quality.
"(There is) no place for stars in this team. We have players who are creative, but that old-fashioned player who does something special and then not afterwards, I don't like."
Mesa exit explained
Carvalhal revealed that the exit of midfielder Roque Mesa on loan to Sevilla this week was the choice of the player.
Mesa was a £12.5m summer signing who arrived with much fanfare but has made just 16 appearances in all competitions.
"It is a story you often see in football," Carvalhal explained.
"He and family have not fully adapted to life here. He said he wanted to go to Sevilla and that he is not fully adapted to England (Wales) and also his family is not fully adapted also.
"I asked what he wished and he said he wished a lot to go to Sevilla and would be happier there. Sometimes these things happen when you come from a different country."
Carvalhal says he views Leicester loanee King as a replacement for Mesa and has not ruled out signing more Welsh internationals in the future.
"His first credential is the quality that is the biggest driver," he explained. "But when a player is Welsh, we know he has big commitment (for Swansea) and will play with heart for the club," said Carvalhal.
"So we are happy about this situation. If we have a possibility in future then we would like to bring in Welsh players, in the same circumstances, of course I would and I would absolutely choose the Welsh players."