Jordan Hugill: Preston boss Alex Neil says selling striker was a 'good thing'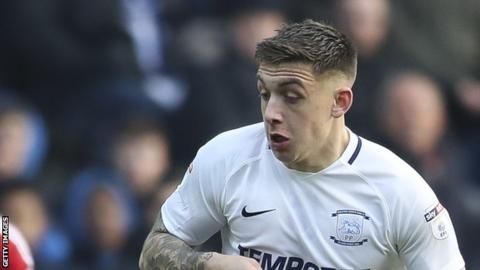 Preston North End boss Alex Neil says selling Jordan Hugill to West Ham United for £10m was a "good thing".
The 25-year-old scored 30 goals in 114 games for the Championship side and is David Moyes' second Hammers signing.
A transfer request from Hugill was turned down by the club in August while Neil had previously said North End had no interest in selling him this month.
"It's done and we just need to focus on the games we've got remaining," Neil told BBC Radio Lancashire.
"We're not a club that's commanded huge amounts of transfer fees in the past and we're not a club that's spent huge amount on transfers.
"What we've done is sold one of our players but we've sold them for a record transfer fee in the club's history and I think that's a good thing."
Neil left Hugill out of the squad for Preston North End's 3-0 away win at Nottingham Forest on Tuesday stating he needed a team "fully focussed on the game".
"We've got a great relationship, there was no breakdown. People comment that he went in a strop and that's why he wasn't in the squad but that was entirely untrue," Neil said.
"I made the decision because I didn't think the lad's head was right. He's a young kid who came up through Middlesbrough to get to where he is. When that type of cash is flung at you then it's naturally going to turn your head.
"I just made the best decision for the team and I think it was the best decision for him as well. I don't think mentally he was in the right state of mind and people underestimate that side of football."