Frank Nouble: Striker fears suspension ahead of Spurs replay at Wembley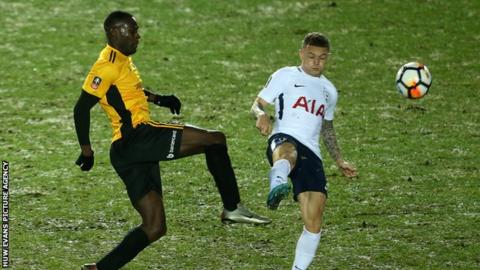 Newport County striker Frank Nouble admits his yellow-card count is playing on his mind "a little bit".
Nouble is currently on nine yellow cards and a booking against Colchester will see him miss County's FA Cup replay against Tottenham at Wembley.
"I have to play the game as normally as I can, not think about it too much and try to block it out," said Nouble.
Midfielder Joss Labadie is also on nine yellow cards after picking up a booking against Spurs at Rodney Parade.
County manager Mike Flynn is relieved that no clubs made a bid for Labadie on transfer deadline day.
The 27-year-old was subject to interest in early January and impressed during the Exiles' 1-1 draw with Spurs.
Flynn said of Labadie: "There was definitely no one (interested) yesterday which I was a little bit surprised about."
County also feared they would lose Brighton loan defender Ben White during January but no transfer materialised.
'Only themselves to blame'
Despite the suspension concerns, Flynn said his players should not think of Wembley this weekend or it could cost them a place in the replay.
Flynn said: "I always look to the next game but if anyone who plays Saturday is looking to Wembley and it affects their performance, they only have themselves to blame."
Nouble said despite his concerns, he and the team are focusing on Colchester before the FA Cup replay.
"Obviously Wembley is on our minds but we played well leading up to the Tottenham game last time when we just focused on each game and getting results," he said.
"I do not thick we are a team that just thinks about the big days. We are really just focusing on Colchester, they are a good side and they beat us here last time."