Ademola Lookman: Everton winger joins RB Leipzig on loan against club's wishes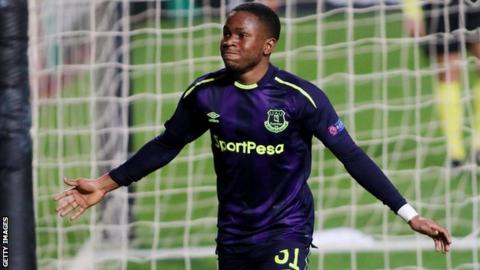 Ademola Lookman's "stubbornness" forced through a deadline-day loan move to RB Leipzig against Everton's wishes, says Toffees manager Sam Allardyce.
Lookman, 20, joined the German side on Wednesday on a deal until the end of the season, despite Allardyce saying earlier this week that he would not go.
"It is one of the most unusual situations I've been in," said Allarydce.
"We got some deals for him but he was adamant he chose Germany."
Allardyce says Everton tried to "persuade" Lookman not to make a move that he thinks is a "big challenge" for the player's development.
"His stubbornness meant he got his own way," said the former England manager. "I hope he proves us all wrong."
England Under-21 international Lookman joined the Toffees from Charlton for £11m in January 2017 and has made seven Premier League appearances this season, starting one game.
On Monday, Allardyce said Lookman was unavailable for a loan move after the departure of winger Aaron Lennon to Burnley.
Following his side's 2-1 victory over Leicester on Wednesday, Allardyce said agents had asked about loan deals for five players in the Everton squad on the closing day of the winter transfer window.
"It has not affected the result, I'm glad to say, but it could have easily have done that," he said.
"I've spent all day trying to fend off people who are trying to take my players."
Allardyce added midfielder Davy Klaassen's proposed loan move to Serie A leaders Napoli fell through because of the "weirdest situation".
"A contract he has with a sporting company is one of the reasons why it failed," he said.
"We are disappointed but he should be far more disappointed than us that he is not playing for Napoli.
"I don't know why they couldn't get over the hurdles."