Alfredo Morelos: Striker 'confused' by big money China offer
Last updated on .From the section Rangers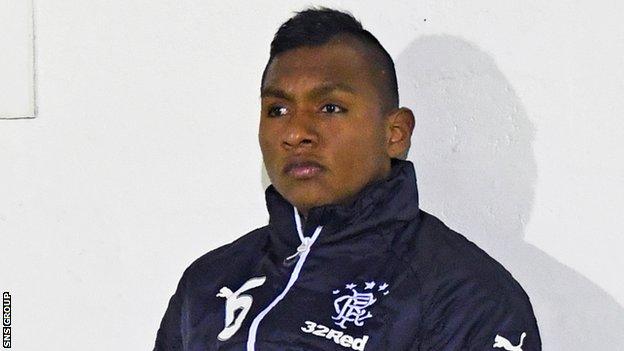 Rangers manager Graeme Murty wants "confused" striker Alfredo Morelos to stay and fulfil his potential at Ibrox following interest from China.
The 21-year-old Colombian is wanted by Beijing Renhe just six months after arriving in Glasgow from HJK Helsinki.
But Murty confirmed that he has no intention of losing his top scorer.
"He is confused at the minute because there are figures being bandied about which would turn anyone's head," said Murty.
"It's almost designed to confuse and unsettle."
Morelos has scored 13 goals for Rangers but was rested among the substitutes for Wednesday's 3-0 Scottish Cup win at Fraserburgh.
The Chinese transfer window does not close until the end of February but Rangers would not be able to find a replacement after this month.
'No reason for him to be frustrated'
"The message I have had is that I don't need to sell anyone for any economic imperative," added Murty.
"I have to make a football decision based on us closing the gap at the top and being competitive in every competition we're in. I've made that decision, I want Alfredo to be here.
"Unless we can go out and spend any money that comes in to strengthen us and make us better it makes no sense to have economic pleasure in the short term but then weaken our challenge in the long term.
"We have to make sure Alfredo understands out position because we are not trying to derail anything for him, we are just trying to take care of him and the club at the same time.
"We believe we can do that, we believe we can get him to the next level. It's down to us, me and the club, to make sure he feels loved by us and respected by us.
"He's not expressed a desire to leave, we have conveyed our feelings to him and he's conveyed his feelings to us.
"We have talked about his ultimate aims and desires, I feel he has the capacity to be an international player for his country.
"He can do that by being the top scorer in Scotland and building on his game. I honestly believe we can enhance him and do that here.
"There is no reason for him to be frustrated, he is still a young man.
"He has been a pleasure to work with the whole time, he's not been disruptive - there has been none of that."