World Cup 2018: Russian official warns locusts could attack pitches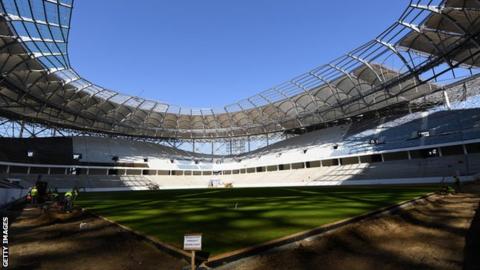 Swarms of locusts could attack football pitches and cause a "global scandal" at this summer's World Cup, according to a Russian government official.
Pyotr Chekmarev said around a million hectares of land in southern Russia was infested with locusts.
Volgograd, where England play Tunisia on 18 June, is one affected area.
"We have learnt how to deal with locusts, but how do we not fall into a global scandal with locusts this year?" said Chekmarev.
"The whole world is coming here. Football fields are green. Locusts love it where there is lots of green.
"How would they not come to the place where football is being played?" added Chekmarev, who is head of the agriculture ministry's crop farming department.
The 2018 World Cup gets under way on 14 June and matches will take place in 12 stadiums in 11 Russian cities.
The BBC will broadcast England's first two matches, against Tunisia in Volgograd and Panama in Nizhny Novgorod.