Hampden's future: Murrayfield better, says former Scotland rugby cap Peter Wright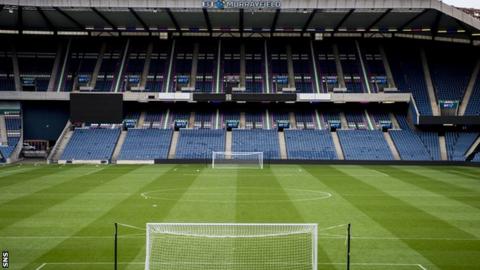 Former Scotland rugby forward Peter Wright has backed Murrayfield to host big football matches because it has a better atmosphere than Hampden.
The Scottish FA is to make a choice between its current home and Scotland's national rugby stadium.
But Wright feels that Murrayfield should be chosen.
"I've been to Hampden for football matches, but I think Murrayfield has a slightly better atmosphere and gives you a better experience," he said.
"Even getting there and getting back has been slightly less frustrating."
The SFA's 20-year lease for Hampden, owned by League One club Queen's Park, expires in 2020, with a renewal option.
And, following a board meeting on Tuesday, the SFA announced that it had rejected a joint bid from Glasgow clubs Celtic and Rangers to host international games and major cup ties.
The governing body will now consider the Hampden and Murrayfield options further between now and the summer, when a decision is to be made.
"I've been to Hampden for all types of matches, cup finals, internationals and I went to watch the Olympics when the ladies were playing and I've obviously been at Murrayfield for the rugby," Wright told BBC Scotland.
"It's a really tough decision and I wouldn't want to be the one who made the decision because you're obviously going to annoy a number of people if it goes the wrong way."
'Perfect stage'
Scottish Rugby chief operating officer Dominic McKay believes Murrayfield provides the "perfect stage" for rugby and football.
''We are very proud our bid has been received so positively by the Scottish FA and will be one of the two options they will take forward in their final review process," he said.
"Over the coming months we look forward to outlining - to all stakeholders - our exciting vision of how football will benefit, both on and off the park, from the world-class facilities and outstanding atmosphere at Murrayfield."