Mauricio Pochettino on football: 'Every conversation, action, my life, my passion'
Last updated on .From the section Tottenham312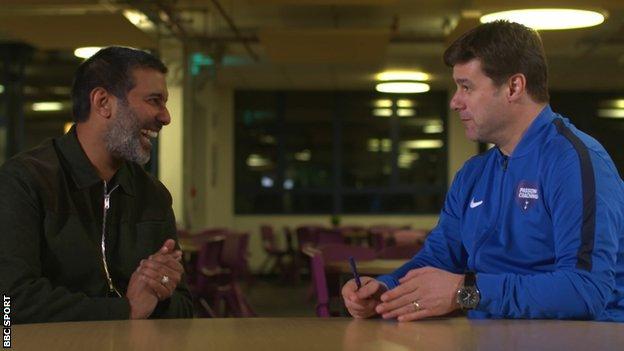 Listen to Nihal Arthanayake's interview with Tottenham manager Mauricio Pochettino on BBC Radio 5 live on Friday, 2 February from 19:00 GMT, and watch on Football Focus on BBC One on Saturday, 3 February from 12:00 GMT
"My life is 24 hours talking about football. For me it is every conversation, every action. It is my life, my passion."
Tottenham boss Mauricio Pochettino is one of the most highly rated managers in world football.
In three and a half years in charge, the Argentine has led Spurs to fifth, third and second in the Premier League, while helping aid the emergence of young players including English trio Harry Kane, Eric Dier and Dele Alli.
Here, the 45-year-old tells BBC Radio 5 live's Nihal Arthanayake about his footballing philosophies, his background and his family, as well as his passion for the game.
Not easy to find balance
I always remember being competitive. From the beginning, with my brothers, with my friends, playing at school, everything. In everything I was involved in.
I don't know if it is ambition but fighting to achieve your dream and only following myself, my emotion, that was the way I behaved.
I still behave like this. With more responsibility now, but still I follow my emotions.
My life is 24 hours talking about football. For me it is every conversation, every action. It is my life, my passion.
It is the way that I find to enjoy life. For me, family and football are the most important things, they are in the same level.
It isn't easy to find a balance, but I am lucky because my family also loves football.
Advice - and criticism - from my wife
After games, my wife gives me a lot of advice and criticism. Sometimes I am upset, I say why do you advise me this? But I like it, because to listen to a different point of view is always important. You can find a different position or point of view that can help you to be more creative.
I try to find something to do like watch a film or read a book but you cannot stop. Maybe you are watching, but you are watching without focusing, you are thinking about what happened in the game. It is impossible to stop - so, so difficult.
Losing is more painful now as a coach. You are thinking always how to help the players, how to improve the team, blaming yourself for some decision and, yes, always it is very painful. But I don't feel the pressure.
What I feel more is the responsibility to deliver a good job, that it is important not to fail your people, not to fail yourself, to accept that football is a game that needs to be enjoyed.
Taking fatherhood into football
I was young when I became a father, at 22. We were two when we signed with Espanyol in 1994 - me and my wife - and in Barcelona we became three when my first son was born in January 1995.
It was my best experience.
I think sometimes the parent wants to describe our relation with our child as like a friend, but it is impossible because you always will be the dad or mum. I don't know if the word 'friend' describes the relationship between a parent and child properly.
What I try to do is to be there, for all that they need - unconditionally.
I think it's important to be there, they need to feel you are there. To talk when they need to talk, when they want to tell you everything or some problem they have. But you cannot force it, always it is up to them.
It is like our relationship with the players - it is always up to the players.
Maybe the player wants to be close, if they need some help, if they need to share with you problems from outside or they need help on the pitch.
It is about the character, the personality, and your son or my two sons are completely different. One is more close, another needs more distance, and you cannot push them because you create a problem. But they need to understand that you will be there for them.
They need to understand, too, that they need to make mistakes and that you will be there not to criticise them but to say: 'Yes, you have to make mistakes to get experience and to learn from this experience.'
It is not only when you have success but when you fail, too, that can be the most important.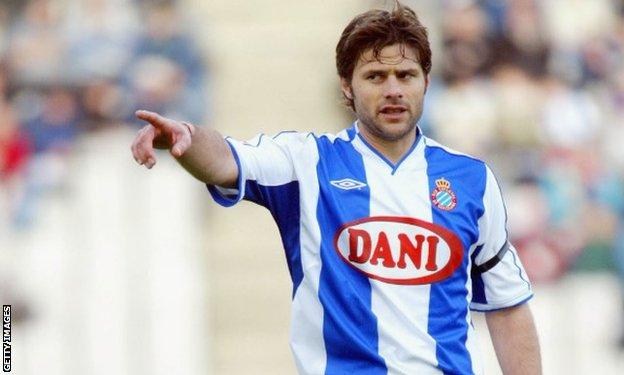 Why I coach
In every kid, in the expression of the face and eyes, the bright of the eyes, in that innocence and that determination to play football to enjoy football, you can perceive and feel the dreams in the minds.
I coach because first of all from my point of view it is so important to help people, people that need help to achieve their dream.
We are in a position where we are able to do that, because football is passion, it's about emotions. To be involved and be part of this project, to share it with the club, I think it is fantastic.
It is an inspiration for us to keep going, to try to help them show their talent, to achieve their dreams because of their love of football.
'I tried not to be a fanboy' - Nihal on meeting Pochettino
Maintaining journalistic professionalism while fanboying inside is something I often grapple with.
I am very lucky to have a job that allows me to meet and interview some seriously inspirational individuals from all walks of life - I hope I have nearly always maintained a veneer of calm and respectful interest.
This was sorely tested by the opportunity to sit in front of Mauricio Pochettino.
As a Spurs supporter, this man has given me more reasons to put my hands in the air and scream for joy than a thousand drum and bass raves ever could. He has given my 10-year-old son a justifiable swagger as he struts into his school, taking it for granted that we have Alli, Eriksen and Kane running rings around almost every other team in the Premier League on a weekly basis.
So when he was there, sitting in front of me, smiling that warm smile, exuding confidence and power, I was more than a little nervous.
We were in an empty school dining hall, it was cold and he had turned up with his coaching staff and PR team. There was a director, camera crew, sound man and the lights.
I had a list of things I wanted to ask him, but ultimately wanted to see where the conversation took us. He was, as you have read, open and obliging - and we all got to see the man behind the manager.
Forget the old adage 'don't meet your heroes'. It's not true.
Pochettino was speaking at the launch of his Passion 4 Coaching scheme, which is run by the Tottenham Hotspur Foundation to work with youngsters from the local community who show an interest and aptitude for coaching.