Alexis Sanchez: Jose Mourinho expects crowds to target Man Utd forward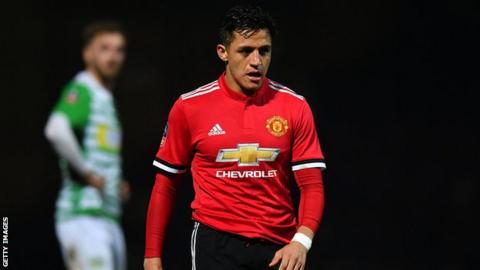 Manchester United manager Jose Mourinho expects Alexis Sanchez to get a rough reception wherever the club play.
The former Arsenal forward, 29, could receive a tough time from the Tottenham crowd on Wednesday and he was booed by some fans at Yeovil in the FA Cup.
The Chile international signed a four-and-a-half-year deal with United worth £14m a year after tax.
"I think he is probably going to get that kind of reception everywhere," said Mourinho.
"I don't know if it's true or not true but that story of being at least one of the top salaries in Premier League football, to change a big club for another big club, this kind of situation attracts a little bit of it but I don't think he cares," he added.
Mourinho believes Sanchez is mentally strong enough to cope if he continues to be poorly received at away grounds.
"I think he's used to it," he added.
"Even in South America, I don't think its easy for Chile to play in Brazil, Argentina and Paraguay, so I think these guys grew up with a certain level of experiences.
"I don't think it's a problem for him at all."
New deal for Mata
Meanwhile, Juan Mata's contract at Manchester United has been extended for another year.
The Spain playmaker, 29, who signed from Chelsea in 2014, was in the final six months of his deal and there had been speculation the arrival of Sanchez could spell the end of his United career.
Mourinho was the manager of Chelsea when Mata was sold and that had only added to the speculation around Mata.
"Mata is very important. He is another one, big story when I arrived one and a half years ago - 'Mata in trouble, in trouble, in trouble,'" said Mourinho.
"Now he's getting an extension of one more year. [He is] an important player for me, an important player for the club, an important player for the other players."