Phil Neville: 'New England boss impresses despite minor hiccup on first appearance'
By Alistair Magowan
BBC Sport
Last updated on .From the section Women's Football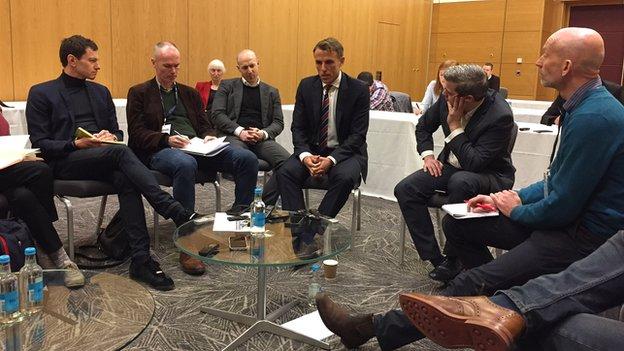 Phil Neville's first appearance as England head coach was going well until he was asked to name the top scorer in the Women's Super League.
After a week in which his past tweets were pored over and his credentials questioned, he spent an hour in broadcast interviews saying all the right things.
He apologised many times, mentioned his late father as he conveyed his disappointment in the words he'd chosen, explained how earning a Pro Licence didn't disqualify him from coaching in the women's game, and said he'd be encouraging Manchester United to start a women's team.
It was impressive stuff, all on message, and appeared sincere.
But then one scribe decided to test his knowledge of women's football.
First there was a pause. Then a look to the ceiling. You could tell the former Manchester United player wanted to get this right.
After another pause, and a clue, the 41-year-old said: "It's not Izzy Christiansen." He continued to rack his brain for what he thought was the right answer.
Twenty seconds elapsed. It was starting to feel uncomfortable.
What Neville didn't know was he had already named the player - Manchester City and England midfielder Christiansen, who has seven goals this season.
As he got up to move onto his next engagement, he was put out of his misery. He replied: "I knew it!"
To a degree. At least it wasn't on the same level as former England men's boss Sven Goran-Eriksson, who couldn't name the Leicester goalkeeper or Sunderland left-back - Ian Walker and Michael Gray, if you're interested - when he made his debut in front of the media in 2001.
For a man looking to create the right impression and underline his status on his first media appearance, it was symptomatic - lots of potential, but with homework to do.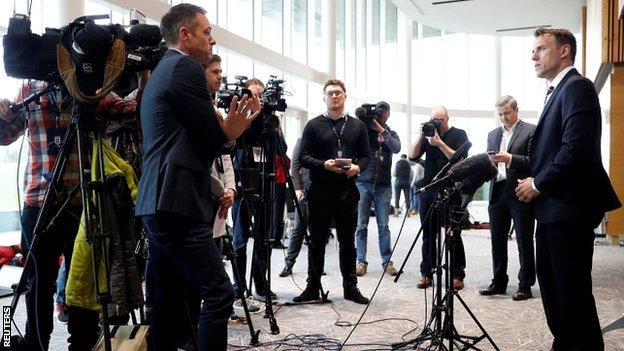 Neville's stardust boosts press pack
Former Manchester United and Valencia coach Neville was at pains to explain he didn't know "every facet" of the women's game.
But he said he would - in time.
The same had happened when he was appointed coach at Valencia. "When I went to Spain, I knew three of their players," he said.
And, though he may have been embarrassed not to know the answer to the quiz question, it is a fair bet many present in the room didn't either.
This was an unprecedented England women's media engagement.
In my eight years of covering England, only a handful of journalists attended the major tournaments, let alone qualifiers, though it should be said that last year's European Championship drew a record attendance from the British media.
Here the press pack had doubled, maybe even trebled, in number.
For all the criticism of Neville, he has already underlined how he can pull in the big media names, particularly from national newspapers.
Everywhere you looked there were chief sports writers - from the Times, the Guardian, the Daily Mail. Some newspapers, such as the Sun, sent two journalists.
The hardcore women's football reporters - those treading the WSL beat every week - were perhaps right to ask where this lot had been until now.
Neville could not resist a departing quip at them, referencing England's next fixtures when he said: "See you all at the She Believes Cup in March."
The hope for him - and women's football as a whole - is those writers maintain their interest when the recent Twitter storm has passed.
You can pick holes in Neville's appointment, and many have, but the 'Class of '92' graduate has already provided a touch of stardust.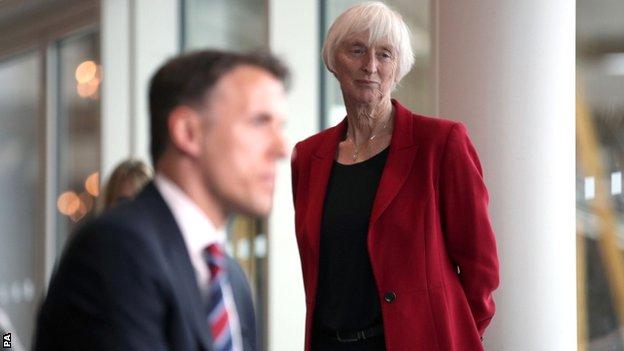 'Race you to number one!'
One supporter Neville will be able to count on is twin sister Tracey, head coach of the England netball team.
Her team are also ranked third in the world and heading into a World Cup in 2019, so there is a neat symmetry. The competition to be the best coach in the family is on.
After his appointment was confirmed at 6pm last Tuesday, Neville said: "At one minute past six I got a text from her which said: 'Race you to number one!'"
The process to appoint him ahead of other qualified candidates has caused consternation, but Neville defended it, was bullish about how much the job means to him and said he'd be moving home from Valencia.
Asked about Manchester United not having a women's team, he said: "I will be encouraging them. A club the size of United should be the leaders, the pioneers."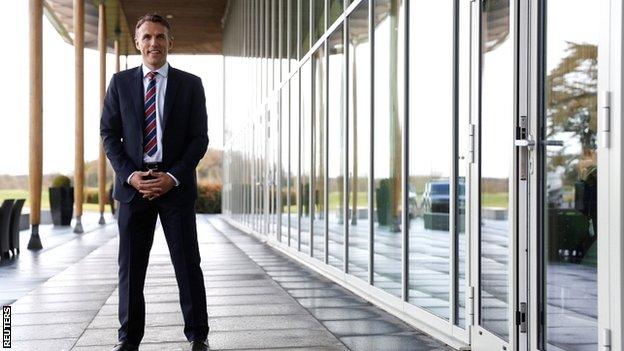 He also spoke in glowing terms about wanting to create a "legacy" by inviting developing coaches into his training sessions.
As if to prove his point, sitting at the back of the room as he spoke was Casey Stoney, the former England captain and Liverpool defender - one of four players already on a coach-to-player development programme.
Baroness Sue Campbell, the head of women's football at the Football Association, also sat within feet of her new protege, saying of their first chat: "Of all the candidates on the shortlist, the person who excited me most was Phil Neville.
"That was because of his excitement and the real belief he had about what he could do to grow the women's game - he wasn't just doing this to be the England manager.
"We talked for two and a half hours and I came off the phone as high as a kite, thinking this is the person I've been looking for."
Neville said that first call had taken him back to the moment then England boss Terry Venables called him to say he had been picked for his country.
He added: "Playing for England is the ultimate, managing England is the ultimate. I've never used the words 'stepping stone'. For me, anything other than this job would be a step down."
Neville's Twitter account is gone, reflecting his belief that "now is a serious time, a serious business".
This was a humble performance from a player schooled under Sir Alex Ferguson; the winning mentality is evident and the desire appears there.
With a month to prepare for his debut against three of the best teams in the world at the SheBelieves Cup, he will now have time to ensure there are no more guessing games.