Chris Cohen: Aitor Karanka suggests Nottingham Forest captain may have to retire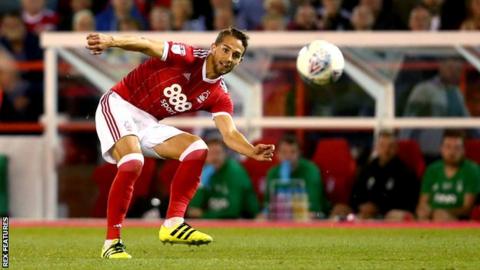 Nottingham Forest manager Aitor Karanka has suggested that long-serving club captain Chris Cohen may have to retire because of injury.
The 30-year-old midfielder has been plagued by injuries in recent seasons and has only played two matches this campaign, both of which came in August.
Karanka told BBC Radio Nottingham he felt it is "not going to be possible" for Cohen to return to action.
"But the main thing is to give him as much time as possible," he said.
Cohen, who joined from Yeovil Town for a fee believed to be in excess of £1m in July 2007, signed a new one-year contract last summer.
The former West Hams trainee has played 303 games for Forest, scoring 17 goals and has already expressed an interested in coaching at the City Ground.
Karanka said Cohen's loyal service and commitment will be recognised should he have to end his career early.
"If at the end he can't play and he wants to stay in the club then the club will help him," Karanka added. "He wants to start his career as a coach.
"Now he is not available to play because he is injured. We had a chat and he told me he wanted to start with the academy and I told him I am here to support him.
"It is good he can come with us to learn and be with the academy.
"A player - especially a person like him who has done everything in this club - deserves the best."