Transfer deadline day: Everton boss Sam Allardyce annoyed by Premier League schedule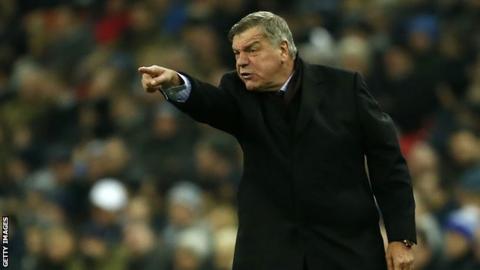 Everton manager Sam Allardyce says it is "not right" that the Premier League has scheduled games on transfer deadline day.
The Toffees host Leicester at 19:45 GMT on Wednesday, 31 January with the deadline to complete any signings at 23:00.
Everton have brought in forwards Cenk Tosun and Theo Walcott this month and Allardyce is unlikely to add to that.
"I'm not focused on the transfer window," he said.
"That is because unfortunately yet again the Premier League have decided to play a game right on the transfer window deadline.
"I give you an example: I pick a team today and tomorrow splashed in the paper is one of those players is going to be sold before the window shuts. How is that player going to approach that game?
"Is that right? It certainly isn't but we have to cope with it.
"I don't know why we play these fixtures at this particular time."
Allardyce is keen to reduce the size of his squad but has not yet received any "suitable" bids for players.
Midfielder Morgan Schneiderlin has been linked with a move to West Ham.
Allardyce added: "We've had a number of enquiries which are not suitable for us to allow the player to leave - nearly all of them on loan, none I believe are permanent - so we haven't accepted any deal yet.
"We have got a lot of players so moving some out on loan would be a possibility."