Owen Coyle: Will Ross County's potential be enough to save them from relegation?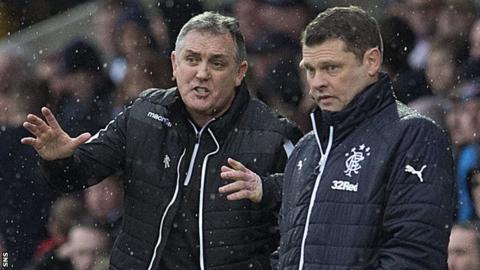 Ross County manager Owen Coyle
"We are more than capable of picking up the points we need to."
As the last of the celebrating Rangers players bounced off the pitch following Sunday's 2-1 win in Dingwall, a man emerged from one of the hospitality boxes and proceeded to pace the main stand, deep in thought.
Roy MacGregor is a very successful businessman who simply doesn't like losing. Defeat he can live with - losing his beloved club's top-flight status is unthinkable.
It was a fear that led the chairman to sack manager Jim McIntyre and assistant Billy Dodds just seven games into the current Premiership season. It wouldn't take a footballing sage to suggest he may now be privately questioning that decision. A decision made in order to prevent the very scenario the club now finds itself in.
If the manager's worries mirror his chairman's, he hides it very well. Owen Coyle is an infectious, glass half-full character, determined to see the positives when the negatives are sometimes slapping him in the face.
The former St Johnstone, Burnley and Bolton Wanderers boss has had plenty of experience of turning things around and, for him, this project should be no different. He's tinkered with the squad, added new faces and brought his own style. But, after a positive start, he is foundering.
In defeat, managers will either find the positives or blame the negatives beyond their control. 'We were the better team in the second half; decisions didn't go our way; we will absolutely get better when key players come back from injury.'
But there always comes a point when the statistics simply shout louder. The Highlanders haven't won a game in 12 matches. They've just recorded their fourth straight defeat, having scored just once during that run. It's the reason they sit six points adrift at the foot of the table.
Mitigating the doom are facts that can't be ignored, though. Key players have been missing through injury at key times. For a club with such a small squad, that can be disastrous.
Even in this crazy, ephemeral world of football, Coyle has not had time to properly settle. He's brought in players like David N'Gog, Harry Souttar and Greg Tansey in the January window and he is confident that, when they settle, they'll make the difference.
The manager also has history on his side. County traditionally perform better in the second half of the season - due in no small part to the fact MacGregor usually finds money for players during the transfer window. Speculate to accumulate.
In the past three years, the club has recorded top-flight finishes of seventh, sixth and ninth. Against all the odds? Yes, but the St Johnstone factor in recent years means that argument is almost moot in the smaller boardrooms of the Premiership.
In Scottish football, reality can be quickly lost in the fog of expectation. Very few fans? Who cares, you've proved it can be done - do it again. Limited finances? Pfft, look around you and stop complaining.
County have developed a taste for the top flight and, for them, there is no turning back.
All of this will come as no surprise to Coyle. Given how early the panic button was pushed at the Global Energy Stadium, his brief would have been survival, but the expectation of mid-table and top-six finishes would not have gone unmentioned.
Like most managers of experience, he has the utmost faith in himself. He'll look around and privately predict a sticky run for those hovering above.
He may well get it. But, even if it comes, County must be ruthlessly ready to take advantage.
Coyle is right when he says the squad is capable. But, as he knows, when it comes to a fight for survival, that is not always enough.