Derek Adams: Plymouth manager calls for rule change as Conor Grant deal collapses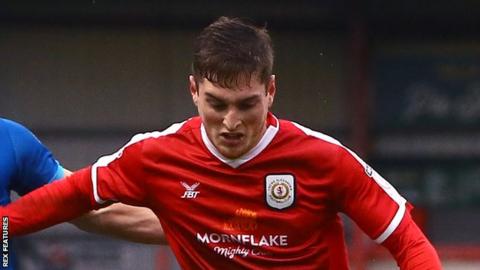 Plymouth boss Derek Adams says rules about how many clubs a player can play for in a season should change after Argyle were forced to pull out of a bid to sign Everton's Conor Grant on loan.
The midfielder, 22, spent time at Crewe earlier this season and also played once for the Toffees' Under-21s in the Checkatrade Trophy in August.
Players are not allowed to represent more than two clubs in one season.
"The rule has to change," Adams said after Argyle's win at Oldham.
"Will it change? I'm not sure, because it might be Uefa that'll stop that."
Development opportunities questioned by Adams
Sixteen academy teams have been invited to play in the EFL Trophy - a competition formerly just for clubs in League One and Two - in each of the past two seasons in an attempt to give more young players competitive matches and aid their development.
Approximately 64% of players in Under-21 teams during the group stage of the 2017-18 competition were English, while about 90% of their starting XIs were aged 21 or under.
Some clubs have played senior players in their academy team's matches - Leicester City had £45m worth of talent on display against Scunthorpe, while Michy Batshuayi helped Chelsea Under 21s beat MK Dons 4-0 a day after facing Atletico Madrid in the Champions League.
Chelsea Under-21s are the only academy side left in the competition and will face Lincoln City in the semi-finals.
"It is difficult for the development of Premier League youngsters that Everton want to enter into the competition, they might get knocked out after three games and then the players can't go out to develop," added Adams.
"They can go out to one club, but they can't go out to two clubs in the season, so they might do well at one club lower down and they might try to step up to League One, which is developing their players and they're not getting the opportunity to do that."
Adams admitted that it was an oversight on his club's part that saw them agree a deal to bring Grant to Home Park before realising he would be ineligible.
He continued: "We didn't double check that he had played in the Checkatrade Trophy, so as a football department we take the full responsibility of that.
"It got to a stage where we filled in the papers, we knew the rules, but we didn't know he had played the Checkatrade for that one game."