Guernsey FC boss Tony Vance pleased with comeback against Ashford United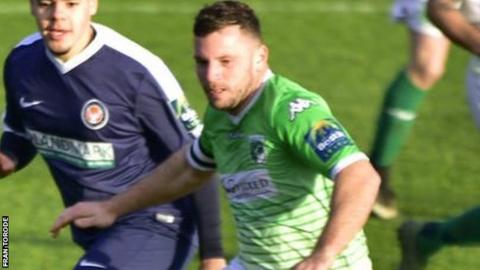 Guernsey FC boss Tony Vance is pleased with how his midfield reacted at half-time as they ended a four-game losing streak to draw 1-1 with Ashford United.
Having gone a goal down before the break, substitute Keanu Marsh equalised before Craig Young was sent off.
"We had three central midfielders against their two and their two were dominating," Vance told BBC Guernsey.
"That disappointed me so I let them know, and to be fair in the second half they absolutely ran the show."
Guernsey ended a four-game losing run in Isthmian League Division One South since the start of the year in which they had conceded 15 goals and failed to score.
"We arguably could have won the game, but in our current situation and given the half-time situation, 1-1 is probably fair, particularly when you lose Craig Young to a sending off and then it gets a bit wobbly in the last five minutes," added Vance.
"Craig's apologised to us, it's just one of those mad moments where he was pumped up and he'll be disappointed with himself."