Isma Goncalves and Hearts benefit from sale to Pakhtakor Tashkent - Craig Levein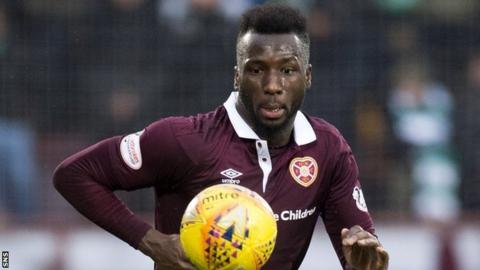 Selling Isma Goncalves to Uzbekistan club Pakhtakor Tashkent for £350,000 was a good deal for Hearts and the striker, says manager Craig Levein.
And he is hopeful of finding a replacement for the 26-year-old.
"It was good for us and good for him," Levein said of the Portuguese, who joined Hearts in January 2017 after leaving Anorthosis Famagusta in Cyprus.
"He's got himself a new deal worth a lot of money, we more than doubled our money, so we're quite happy with that."
Goncalves signed for the Uzbekistan Super League club, managed by former Rangers striker Shota Arveladze, on Sunday having found the net 15 times in 42 games for Hearts.
"People have said Isma's move here didn't work out, but he scored nearly a goal every two matches," said Levein. "In any league, that's really good going."
It was Goncalves' second spell in Scottish football having played on loan with St Mirren from Rio Ave.
After only a year at Tynecastle, he moves to a side preparing for the 2018 Uzbekistan Super League campaign after finishing third last year to qualify for the Champions League qualifying rounds.
Hearts have signed Scotland forward Steven Naismith on loan from Norwich City.
But, having already sold Jamie Walker to Wigan Athletic and offloaded Cole Stockton to Carlisle United, Hearts are now minus another forward - and one who contributed seven goals in his 25 appearances this term.
"I'm trying to get someone in before Wednesday night, but it's a difficult window, it really is," Levein said as he looked towards deadline day.
"That's without us losing any more. We have had interest in our guys, but nothing concrete.
"I've got so many things up in the air at the moment. We just need to see what happens.
"This window is worse than the summer window. At least in the summer you feel like you can breathe.
"Now we're in this manic period where we seem to be playing constantly and also at the same time trying to worry about what the squad looks like."