Niall McGinn backs Scotland's plans to play summer friendlies in America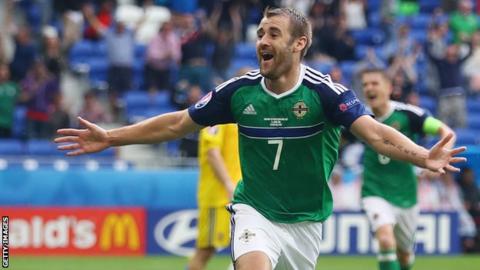 Aberdeen forward Niall McGinn has backed the Scottish FA's plan to play two end of season friendlies in America this summer.
Celtic manager Brendan Rodgers had questioned the decision to play Peru and Mexico in May and June.
However McGinn, who was part of the Northern Ireland squad that played Uruguay and Chile in 2014, says it will be a great experience for the players.
"They are very good games to be involved in," said McGinn.
Scotland travel to play Peru on 29 May and Mexico on 2 June, but BBC Scotland understands Celtic are writing to the Scottish FA for an explanation as to why matches have been scheduled at the end of the season.
Rodgers feels many of his players will not have enough time off in between the end of the Scottish season and the beginning of qualifying matches in Europe.
However, McGinn says the games will form a vital part of preparations as Scotland and Northern Ireland bid to qualify for Euro 2020.
Speaking to BBC Radio Scotland's Sportsound, McGinn said: "We went and played Uruguay and Chile in South America, and it's been arranged again; we're going back to play Panama and Costa Rica.
"They are teams who are going to the World Cup and for us as players you're getting the opportunity to play against the best players in the world.
"When we played Uruguay and Chile they were two unbelievable games to be involved in. The atmosphere, the crowd, just for the build up to the World Cup was great.
"We're disappointed we're not going to the World Cup, but for these games to come round and have the opportunity to play in these games is exciting."
On Saturday McGinn scored on his first start since returning to Aberdeen from an unsuccessful spell in South Korea, notching the third goal as the Dons defeated Kilmarnock 3-1.
The 30-year-old had options in Scotland and England, but says it was a "no brainer" to move back to the club where he had spent five years previously and work again under manager Derek McInnes.
"I was surprised by the interest that was shown straight away," he said.
"A lot of Scottish clubs were on the phone to my agent straight away. There was English clubs as well.
"Hibs showed a massive interest. Hearts showed a massive interest as well. They are two great clubs that I've always enjoyed playing against and the environments they play in, the training facilities are very good as well.
"I knew what I was coming back to here, I know how great of a club Aberdeen's been, it's been great for me. It's been the best years of my career, but a big point of that was coming back to work under the manager."