Kallon leads calls for league football to resume in Sierra Leone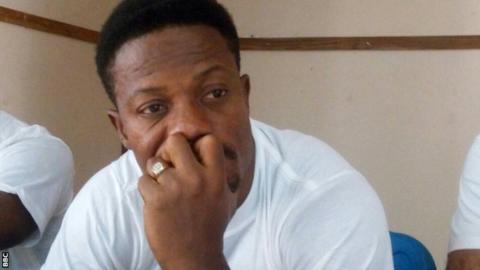 Sierra Leone football legend Mohamed Kallon is leading calls for league football to return to his country after a three-and-a-half-year absence, largely due to internal wrangling within the Sierra Leone Football Association (SLFA).
The former Inter Milan and Monaco forward, speaking on behalf of the Sierra Leone ex-players' union, said it is time for "the beautiful game to resume".
"We want to serve the interests of vulnerable kids and talents that want to play football," Kallon told BBC Sport.
"These kids want to make it to the highest level, like I did.
"Most of them want to play better than me, but if they don't have the podium to play, how are they going to express themselves?"
Kallon, whose club FC Kallon refused to take part in domestic competitions under the SLFA administration led by Isha Johansen, has admitted his share of the blame for the suspension of league football in his country.
"If you look down the line, a lot of us have made mistakes," Kallon said.
"Personally, I have made my own mistakes, because we were pleasing our egos and we wanted to show that we were strong and without us the game can't play.
"But it's about time we forgot about our egos and seek the interests of our country and put it first."
The former Leone Stars captain has promised to talk to other clubs about the resumption of league football.
"As chairman and owner of a club, I know most of the members of the SLFA always seek the interest of their country.
"If we tell them that it is about time to change the decision [to suspend league football], to seek the interest of the country and players, I think they'll buy our ideas and they will let the game play."
The call for the resumption of domestic football comes at a time when the SLFA is governed by two bodies.
One body is led by Isha Johansen, which is recognised by Fifa, and the other is led by her Vice President, Brima Mazola Kamara, who took up the reins when Johansen was set aside following corruption charges . She denies any wrongdoing.
The SLFA were originally supposed to have conducted elections last August, but Fifa decided to extend the mandate of the administration led by Johansen.
No date has yet been set by Fifa for new elections.
"We don't care about who is going to be in charge of the SLFA, because at the end of the day, there are a lot of factors that determine who is going to run the SLFA," Kallon said.
"For now let's focus on playing the game and our next SLFA election. We are ready to play."
The Sierra Leone ex-players' union's membership also includes Abu Bakarr Kamara, who skippered the Leone Stars at the 1994 Africa Cup of Nations in Tunisia.
Leone Stars coach and ex-Sierra Leonean international John Keister, his assistant Kamara, and ex-Leone Stars captains Amadu Rapel Kamara and Abdulai Decox Sesay have all expressed similar sentiments to those expressed by Kallon.