CHAN 2018: Sudan coach hails victory over Zambia as a 'miracle'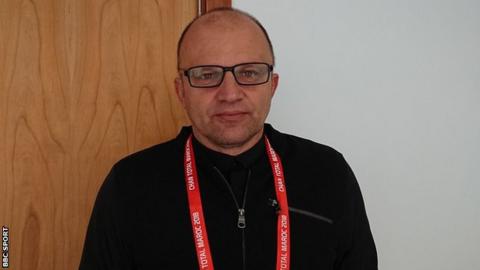 Sudan's coach Zdravko Logarusic has hailed his side's surprise 1-0 victory over Zambia in the quarter-finals of the African Nations Championship (CHAN) as a "miracle".
The Croatian only took over in December and had just days to assemble a squad for the competition for locally-based African players.
"I just came to Sudan five weeks ago. I had never visited Sudan. I had ten days to choose the players," he told BBC Sport.
"Now we are here and in the semi-final.
"We are happy. It's like a miracle. We had two weeks' preparation. From nowhere, we are somewhere."
Maki Bakhit Saifeldin scored the only goal of the game as the Jediane Falcons reached their first CHAN semi-final since 2011, when they hosted the tournament.
Sudan will now play the winner of Nigeria and Angola, who contest their quarter-final in Tangier on Sunday.
"Now the pressure will start, because everyone will be expecting something," Zdravko said.
"No one took us seriously. Now they will and let's see how we're going to respond."
Logarusic - who has previously coached in Europe, Asia, Australia and North America - said the language barrier was also a big challenge in communicating with his players.
"It's not just difficult. It's fantastically difficult. But we are trying, we are talking with body language, using words, using gestures," he said.
"But we are here, let's try to see if we can all go a step further."
Zambia had been tipped as one of the favourites for the title in Morocco, but despite their quarter-final defeat, Zambian captain Ziyo Tembo said there were plenty of positives for his side to take away from the finals.
"It's been a good feeling coming here to the tournament," he said.
"We came with some players who had never played in CHAN before and they have gained experience."