Sanchez brings class & maturity - Mourinho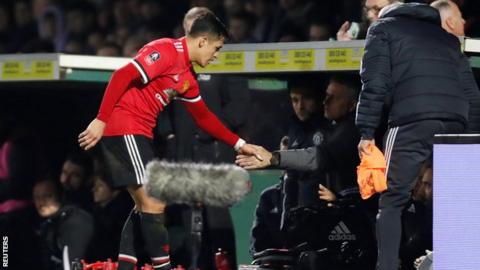 Alexis Sanchez's experience and quality will add a new dimension to Manchester United's attack said manager Jose Mourinho.
The Chile international, 29, set up two goals on his debut for his new team in a 4-0 FA Cup fourth-round win over Yeovil.
"He is a fantastic addition," Mourinho told BBC Sport.
"His choice for the second goal is a choice that a player like Marcus Rashford is too nervous to make."
He added: "Alexis brings maturity and class."
Sanchez signed for United on Monday with Henrikh Mkhitaryan heading in the opposite direction to Arsenal.
With Zlatan Ibrahimovic acting as back-up to £75m summer signing Romelu Lukaku in the central role, Sanchez is expected to compete with the likes of 20-year-old Rashford, Anthony Martial, Jesse Lingard and Juan Mata for a role just behind.
Sanchez had a hand in his team's first two goals in the win at Huish Park, bundling the ball towards Rashford for the opener before slipping a well-weighted pass into the path of Ander Herrera for the Spaniard to drill home.
Mourinho insisted that his squad would be galvanised by the increased competition.
"Good players want good players," he added.
"The question is always which one is going to be left out, it is not about that for us."
Mourinho's forward options
Player
Goals
Assists
Chances created
Shots on target
Dribbles completed
All stats in Premier League. *For Arsenal
Romelu Lukaku
11
5
24
31
27
Marcus Rashford
4
5
19
15
35
Anthony Martial
9
4
25
14
28
Juan Mata
3
3
33
9
15
Jesse Lingard
7
4
19
14
16
Alexis Sanchez*
7
3
51
26
40
Zlatan Ibrahimovic
0
0
2
1
0
I'm very proud - Way
Yeovil manager Darren Way said he regretted the indecision in the heart of his defence that led to Rashford's opener after an impressive start from his League Two side.
Defender Tom James was consoled by his team-mates after his hesitation let in Rashford.
"I'm very proud," said Way.
"In the first 20 minutes, we caused Manchester United's back line problems.
"If I had one disappointment, it was probably the goal we conceded on the 40th minute.
"Playing against one of the best teams in the world, managing against the best manager in the world, we've basically just lived the dream for 90 minutes."
'Man Utd players have to up their game'
Former Tottenham midfielder Jermaine Jenas on 5 Live
Players have to up their game and they're excited about playing with Alexis Sanchez. I'm not surprised to hear Mourinho saying he'll have a problem because he wants to play every minute of every game.
He just wants to play football and he makes those passes in the final third. He keeps his head and takes that extra second, as we saw with the second goal. It was a crucial moment in the game. He's got to be delighted with the start he's had to his United career.
Jesse Lingard is in the form of his life so it's unbelievable that you're wondering whether he'll start or not. Anthony Martial is also in the best form he's been in since he came to the club, but you've got to say Sanchez and Lukaku will start every game.
But Mourinho has plenty of attacking options now and can pick certain players for certain games.
Already you can see the link-up play with Rashford and even Lukaku for the last few minutes, playing the one-twos and getting in behind. We always knew Sanchez would be a strong addition but I'm surprised how quickly he's slotted in to play on that left side. But as we know, he can play anywhere across the front four.
Your reaction
mpgreeny: Took a lot of stick tonight but decent debut from #Alexis7. Look forward to seeing him play with the other waste of money signings like Tony Martial and Pogba.
ShyFyy: 2 assists! On this devil of a pitch! Super debut! #Alexis7
Tom: Sanchez looks like he gives the ball away a lot. But I like the fact he is always looking for that killer pass. It's exactly what Utd need.