Jack Hendry: Celtic's 'low bid' for Dundee defender rejected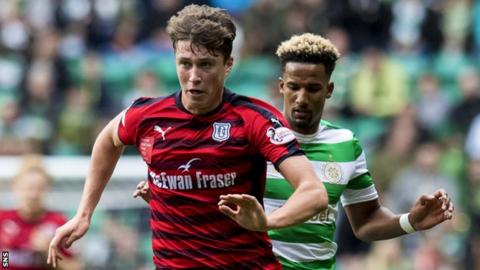 Dundee manager Neil McCann says the club have rejected "a low bid" from Celtic for defender Jack Hendry.
The 22-year-old Scot has made 28 appearances for the Dark Blues since joining them on a two-year contract from Wigan Athletic in August.
He was previously loaned to Shrewsbury Town and MK Dons after joining Wigan from Partick Thistle.
"I would think there would be more interest in the player," said McCann, whose side are 10th in the Premiership.
"But clearly they were told it wasn't enough and that will be the message if it continues in that vein.
"There's been a bid, a low bid, very low, but nothing since.
"If someone wants to come in and take our best players, it has to be right for the club. It's not about cherry-picking Dundee because there's bigger sides out there. I'm not up for that anymore and I think the days of this club accepting that should be long gone.
"You see other clubs are not accepting it now and that's right. Why should clubs who are deemed smaller clubs just give up their talent? If they are deemed good enough to go to a bigger club then they should be paying the price for the player.
"He (Hendry) is dealing with it absolutely fine, he's getting on with it. He knows there is interest there clearly, he knows he's a good player, we know he's a good player and if he's performing then clearly he is doing something right."
Celtic signed defender Marvin Compper, 32, earlier in the transfer window but the German has since picked up an injury.
Danish centre-half Erik Sviatchenko has been loaned back to his former club FC Midtjylland until the end of the season.