Barcelona: Espanyol complain about Gerard Pique and Sergio Busquets comments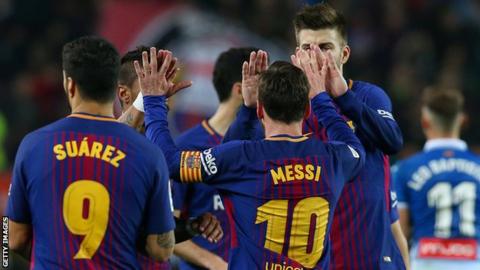 Espanyol have complained to Spanish football's anti-violence commission over comments made by Barcelona's Gerard Pique and Sergio Busquets.
Pique appeared to mock Barca's city rivals by describing them as "Espanyol de Cornella". Cornella is the Barcelona suburb in which Espanyol's ground sits.
Busquets said Espanyol over-celebrated after winning last week's Copa del Rey quarter-final first-leg, but Barca "put things in their place" by progressing.
Espanyol also say fans chanted abuse.
They claim allegedly xenophobic chants were directed towards their players and supporters by home fans in the Nou Camp during Thursday's 2-0 Barca win - a result that sealed a 2-1 aggregate victory for the Spanish Cup holders.
Part of a strongly worded Espanyol statement appears to address tensions in the region related to the Catalonian independence movement.
Barcelona have been vocal supporters of independence for Catalonia from Spain, while Espanyol have traditionally been associated with union with Spain.
What did the Barcelona players say?
After the match, defender Pique said: "It isn't that we suffered so much in this game, but Espanyol de Cornella always make it difficult for us."
Asked why he referred to the rival club in that way, Pique replied: "Yes, Espanyol de Cornella, they are from Cornella right?"
Espanyol identify themselves as Espanyol de Barcelona.
Barcelona has a population of 1.6m, whereas the Cornella municipality is populated by 86,000.
Between 1923 and 1997 Espanyol played at the Estadio de Sarria in the north of Barcelona, and between 1997 and 2010 they played at the Olympic stadium close to the city's centre.
Oscar Melendo's late goal in the first leg gave Quique Sanchez Flores' side a narrow advantage before Thursday's match, but midfielder Busquets felt their rivals were too confident after their first-leg win.
"In Cornella it was a more insane game," the Spain midfielder said. "They celebrated in Cornella as if they had passed the round, but the tie lasts 180 minutes and we put things in their place."
BBC Sport have contacted Barcelona for a comment on the issue.
What have Espanyol said?
Espanyol have asked the Spanish Football Federation's anti-violence commission to rule on whether there is evidence that Barcelona "incited violence, racism, xenophobia and intolerance".
The club described its Cornella home as "an example of integration and progress the whole country can be proud of" and said the majority of people living there were "hard-working working class families".
It said Pique's comments were "clearly disrespectful" and "flirted very dangerously with xenophobic attitudes" which "clearly incite violence and intolerance in our sport".
The statement added: "In relation to the statements of Mr Busquets, it is inconceivable an athlete declares a rival cannot celebrate a victory, achieved with effort and in a fair fight, like the one that our team got in the first leg of the tie.
"We consider the declarations of Busquets can generate violence and intolerance."