Neil Warnock: Manager targets Cardiff's FA 'cup final' against Pep Guardiola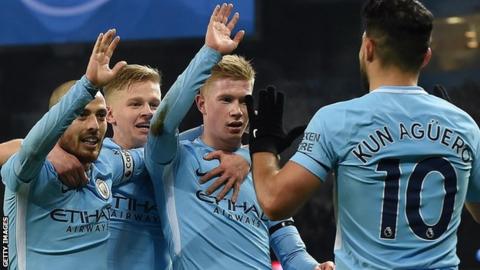 Cardiff City boss Neil Warnock says he is excited to lock horns with Manchester City boss Pep Guardiola as the Bluebirds prepare to welcome "Europe's best team."
The Cardiff City Stadium is a 33,280 sell out for Sunday's FA Cup fourth round tie against a City side who have only lost two games in all competitions all season.
Warnock feels his side can cause an upset if they play the game of their lives, but admits the size of the task is daunting.
"We will have a go but it has been the easiest week of training, because we haven't had a ball, we have just been chasing shadows to get used it," he joked.
'This is our cup final'
Cardiff have ambitions of promotion to the Premier League this season and Warnock admitted before their FA Cup third round tie with League Two Mansfield that the cup was far from a priority.
However, now that the Premiership leaders are heading over the Severn Bridge, Warnock is excited for Cardiff's supporters with the Bluebirds set to welcome their biggest crowd in 41-years.
"When we saw the draw it obviously whets the appetite.
"I think if you look at the Championship this year most teams have fielded lesser sides in the cups.
"Some have gone out and by choice we had to play a weakened team against Mansfield but having got the replay; I felt the fans deserved us to go there with a strong team really.
"I think it showed by selling out how important it is and how the fans have taken to it and it's a good reward for them as they have been brilliant with me.
"I am pleased, I could have picked a better draw than Manchester City if I wanted to win the FA Cup but in terms of the tie, I think this is the best one going at the moment, they are great to watch.
"It is exciting because this is our cup final… City are probably the best team in Europe at the moment."
Guardiola 'a touch of class'
Warnock, a 37-year veteran of management in English football, is relishing the chance to pit his wits against one of Europe's most decorated coaches.
Guardiola told BBC Sport earlier this week that he expected Cardiff to play 'long balls' but Warnock did not take offence and was full of praise for the ex-Bayern and Barcelona boss.
"The biggest thing for me was that our replay with Mansfield was the coldest night of the year, really bad conditions," he explained.
"And he (Guardiola) sat in the stand. That is a bit of class that.
"He's got hundreds of staff and yet he came to watch the two teams, I thought 'well done to him'. It means he cares; you've got to take your hat off to that.
"It is nice for me to manage against a team like that and work out how we can try and give them some sort of a game.
"At the same time I want us to try and show what we can do as well."
'Why would we change the way we play?'
While City have a goal difference of 52 from just 24 Premier League matches, they found it difficult to overcome Championship sides Wolverhampton Wanderers and Bristol City in the Carabao Cup.
Both teams were praised for their approach of trying to take the game to Guardiola's men, but Warnock is unsure if such an approach would work for the Bluebirds.
"I think it is dependent on what team you are. We have a certain way of playing and there is no point changing it, whoever you are playing," he explained.
"Why should we change our style? This is a bonus game for us.
"But it will be interesting to see if we can cause them trouble when their guys are so switched on mentally.
"We want to give them problems and my team selection will have to be positive.
"But you can talk all day but if Kevin De Bruyne and David Silva are on their game, they'll beat anyone in the world. The fans can help us though.
"I'm looking forward to a full house and a great atmosphere."