Brennan Dickenson: Colchester United's John McGreal excited by winger's return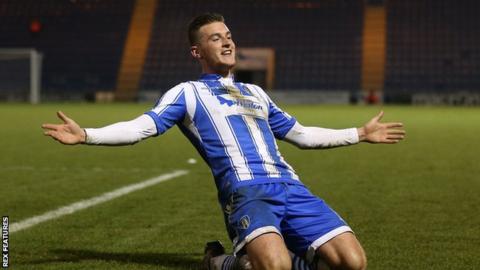 Colchester United manager John McGreal says the return of winger Brennan Dickenson from injury is causing excitement at the League Two club.
The 24-year-old was the U's 2016-17 player of the season but has been out since April after having knee surgery.
"He's such a talented player, that's the thing. He even looks more powerful now," McGreal told BBC Essex.
"The way he's been performing in training he's got his speed back, there's no question of that."
Dickenson made his comeback on Thursday, playing 30 minutes for Colchester's under-23 side.
He scored 12 goals last season - only Chris Porter, now at Crewe, scored more for the club - and was the subject of a bid from Championship side Ipswich in January 2017.
"He's exciting people, he's exciting coaches that have been working with him and even down to the sports scientists," said McGreal.
"The areas where he's improved physically, if he had to, are there to see so he'll be champing at the bit.
"We'll keep looking to push him, but not push him too hard because we've always thought he'd be back between the middle and end of February - it's still looking that way."