Robbie Simpson: Exeter City striker nearing full fitness after 11-month injury battle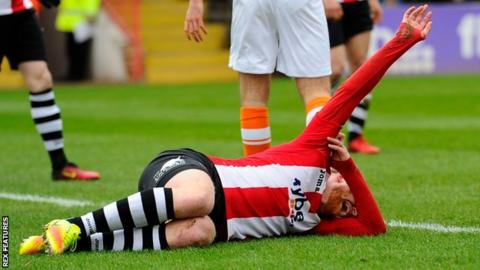 Exeter City striker Robbie Simpson says he is nearing full fitness after almost a year out with a serious ankle injury.
The 32-year-old broke and dislocated his ankle 11 months ago.
After trying to return at the start of the season, and playing two minutes as a substitute in August, Simpson had a relapse and only returned to action on Monday for City's Under-23s.
"Hopefully I can build the minutes up and maybe play a full game soon," Simpson told BBC Sport.
The former Coventry City, Huddersfield Town, Oldham and Leyton Orient forward said getting over the psychological barrier of stepping out onto the pitch where he was injured was almost as tough as his physical recovery.
"It was the first time I'd been on the St James Park pitch since breaking my leg, so that was another hurdle for me to overcome," he said after playing an hour for Exeter's youngsters.
"There was a cross in from the left quite early and it was one where I knew there was going to be a collision between me, the defender and the goalkeeper, and for me to go in on that was quite a big thing mentally for me."
Simpson believes his physical recovery is also on the right track.
"Every week I try and enhance where I was at at the start of the week and I feel like I've been doing that consistently for about five or six weeks now," he said.
"If I can continue with the routine I've got going in terms of my rehab before training and my recovery strategies after training, and when my ankle's feeling a bit stiff or a bit sore I let Paul Tisdale and the physios know if I need anything extra or a day off with it, that's the way forward with me.
"The routine's going really well and week by week I'm increasing what I can do and I'm looking forward to getting back out there in a first-team game."