Torquay United boss Gary Owers tells fans to criticise him rather than his players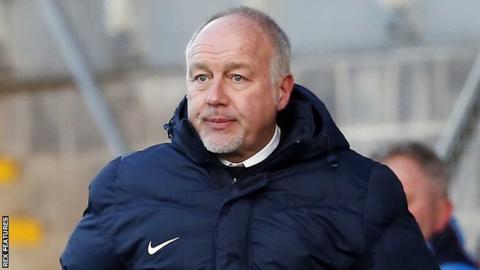 Torquay United manager Gary Owers says disgruntled fans should direct their anger at him rather than his players.
The Gulls are 11 points from safety at the bottom of the National League and have lost their last four games.
They have let in 12 and scored one on their recent poor run, culminating in a 4-0 home loss to Bromley last week.
"I'll take on board any criticism that comes my way and, to be honest with you, I'd rather I got the criticism than the players," he told BBC Sport.
"I felt there were a couple of instances last week where young players suffered and that won't help their development and it might not help us as a club going forward being able to attract players."
Owers took over on 13 September, with the former Football League club eight points from safety at the bottom of the fifth tier.
'Some of the stuff I'm hearing is personal'
Fans have become increasingly concerned with the lack of improvement in their position - the Gulls have won just four times since Owers took over and were knocked out of the FA Cup and FA Trophy after one game.
"I've come up from a football heartland where I understand how passionate football is, I understand what being a football supporter is all about, I've been one myself," said the former Sunderland defender, who helped the club reach the 1992 FA Cup final.
"I understand they have to go to work all week, earn their money and spend their money coming to watch us.
"If they turn up and they have their say that's fine with me, but there's still a line in the sand.
"Just because you pay the entrance fee doesn't mean that you have the right to turn up and be personal and insult someone, but you can certainly criticise what you see.
"Some of the stuff I'm hearing is personal, it's untrue, way off the mark and it's not fair."