Alexis Sanchez: Manchester United forward will have to explain to anti-doping testers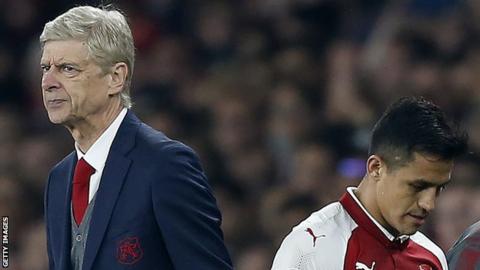 Manchester United's Alexis Sanchez must explain to UK Anti-Doping (Ukad) why neither Arsenal or his new club could tell testers where he was on Monday.
Testers arrived at Arsenal shortly at 10:30 GMT on the day Sanchez's swap move to United was completed.
The Chilean was not on the list of players required to give a sample, but his whereabouts needed to be recorded.
If his explanation is not accepted, he will receive a strike. Three strikes within a year would break FA rules.
Arsenal were able to provide information on the whereabouts of Armenia playmaker Henrikh Mkhitaryan - who moved to the Gunners from United in the swap deal.
Ukad were unwilling to comment when contacted by BBC Sport on Friday.
Speaking on Friday, Arsenal boss Arsene Wenger said the club had "nothing to hide".
He added: "On Monday there was a lot going on, it is a special day for Alexis Sanchez - you have to do paperwork and travel.
"It is just a bad day for him to be tested. Honestly, on the administration side it would still be our responsibility because he had not moved. I don't know what really happened.
"I am quite relaxed because we always try our best to co-operate with doping control. The intention of Alexis was not to hide and we have nothing to hide."
Sanchez and Mkhitaryan were both pictured on Monday at an immigration office in Liverpool, securing work permits before their moves.
What are the rules?
Clubs are required to provide accurate details of training sessions and player whereabouts so they are available for testing at all times.
If clubs fail to provide this information - or testers are unable to find the players they are looking for - three times in a rolling 12-month period, they are deemed to have breached the FA's rules.
Manchester City and Bournemouth were each fined £35,000 last year and warned about their future conduct after breaking the rules.
Any transfer news?
Also at his news conference on Friday, Wenger said a deal for Borussia Dortmund striker Pierre-Emerick Aubameyang was "far from close".
The London side had a second bid of 50m euros (£43.64m) for the 28-year-old Gabon forward rejected this week, with the Bundesliga club only considering selling for a fee in excess of £50m.
Wenger also said he does not want to lose Olivier Giroud and dismissed reports the France forward was included in any deal for Aubameyang, as well as claims linking the striker with Chelsea.
He added: "I want Olivier to stay. If nobody comes in, nobody goes out."