Jose Mourinho: Man Utd plucked 'juicy orange' Alexis Sanchez from top of tree
Last updated on .From the section Man Utd
Manchester United plucked "the roundest and juiciest orange from the top of the tree" by beating their rivals to sign Alexis Sanchez, says Jose Mourinho.
Sanchez agreed a deal worth £14m a year after tax to move from Arsenal, having been linked with Manchester City.
The Chilean moved to Old Trafford in a swap deal with Armenian midfielder Henrikh Mkhitaryan.
"You like the ones at the top. They are so nice and so orange and so round and so full of juice," said Mourinho.
"When you see a tree with amazing oranges at the top of the tree and then you cannot get there and you say, 'I got the lower ones because I don't like the ones at the top'.
"But you can't get there, so you say 'I don't want to go there' or 'I prefer the other ones'. I think it reminds me a little bit of that story."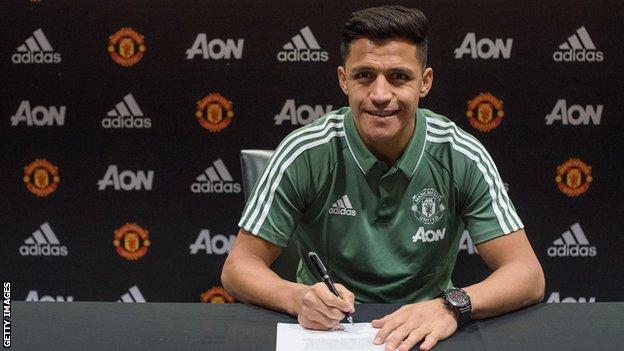 'One of the best attacking players in the world'
Mourinho, who has signed a contract extension until at least 2020, said it was "a great deal for everybody" and confirmed Sanchez will be in the squad for United's FA Cup fourth round tie at Yeovil on Friday.
The match will be shown live on BBC One and the BBC Sport website.
Sanchez scored 80 times for Arsenal following a £30m move from Barcelona in July 2014, and was last season's top scorer with 30 goals in all competitions.
"We've got one of the best attacking players in the world," said Mourinho. "He is very important for us because we want the best possible players.
"Because he has been in England for quite a long time, I think everybody knows the player he is, I think everybody knows what he did at Arsenal.
"I try not to speak about what he did before in Spain and Italy but in the Premier League he has shown the quality he has."
'Happy for Mkhi'
Former Borussia Dortmund player Mkhitaryan, 29, scored 13 goals in 63 appearances for United, including one in last season's Europa League final victory over Ajax.
But he made only 10 Premier League starts this season, and it is understood there was a breakdown in trust between him and United manager Jose Mourinho, which was reported by the BBC.
Mourinho said: "I think it was a fantastic deal and a fantastic deal is only fantastic if it is good for everybody.
"United and Arsenal made a fantastic deal, I lost a fantastic player, Mr Wenger lost a fantastic player, Alexis changed from a fantastic club to a giant club and Mkhi changed for a fantastic club, so was a great deal for everybody.
"I believe Mkhi is going to be even better than he was with us. With one-and-a half years in England, he has adapted, I think is a good move for everybody, that's why I'm also happy for Mkhi.
"Could he perform better with us? Could I take more from his talent? Maybe. Could he give a little more also to adapt to us? Maybe, but I don't think regrets, he is in our history."
'Every manager wants Ronaldo'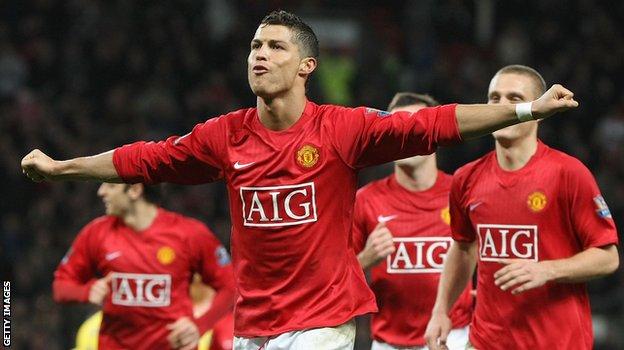 Mourinho managed La Liga side Real Madrid from 2010 to 2013, winning one league title and one Copa del Rey.
But his former side are struggling badly under Zinedine Zidane this season, being knocked out of the domestic cup by Leganes on Wednesday and 19 points adrift of leaders Barcelona in the league.
Ex-United forward and current Ballon d'Or holder Cristiano Ronaldo continues to be linked with a return to his former club.
Mourinho added: "I think I should be the last one to add some fuel to the fire. Madrid is on fire, the results are not good and it is a club where I worked three years, I care about the club.
"To put some water on the fire, Cristiano Ronaldo is the kind of player every manager and every club wants but only one manager and one club can have which is Zidane and Real Madrid, that is my feeling."