Hampden: Rangers and Celtic make bid for Scotland games and cup finals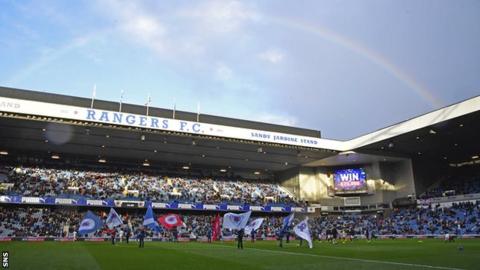 Rangers and Celtic have made a proposal to the Scottish FA board to host Scotland international matches and cup finals.
Ibrox and Celtic Park each hosted one match during the Euro 2016 qualifying campaign, and internationals have been held at both grounds previously.
The SFA's 20-year lease on Hampden Park expires in 2020, with a renewal option.
The governing body aims to decide in the next few months whether to renew, or quit the home of Scottish football.
It commissioned a feasibility study to consider the options, which will be presented to the eight members of the SFA's main board on Friday, and will be discussed at its meeting on Tuesday.
The study also considers the pros and cons of staying at Hampden - that case being put by its owners Queen's Park FC.
In November the Scottish FA's chief executive Stewart Regan told BBC Scotland it would cost "many, many millions of pounds" to stay at Hampden, requiring external funding from public and private bodies.
That assertion is disputed by Queen's Park.
Queen's Park, who play in Scottish League One, also believe the 52,000-capacity Hampden Park is an economic asset to Glasgow and Scotland - and that this should be taken into consideration by the SFA.
The other option is using Murrayfield, the home of Scottish rugby in Edinburgh.
Scottish Rugby, approached by the SFA to outline a proposal, say they have made a "compelling and interesting" case for hosting major internationals and cup finals at the 67,500-capacity national stadium.
Supporters groups and other interested parties have also been canvassed for their opinions as part of the consultation.