FA Cup: The day Newport's Bryn Jones kicked brother Cliff Jones, of Spurs
By Mark Poyser
BBC Wales Sport
Last updated on .From the section Newport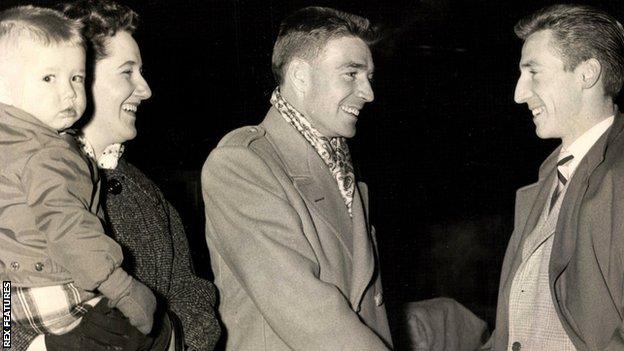 FA Cup fourth round: Newport County v Tottenham Hotspur
Venue:
Rodney Parade, Newport
Date:
Saturday, 27 January
Kick-off:
17:30 GMT
Coverage:
Listen live on BBC Radio Wales, BBC Radio Cymru, Radio 5 Live, BBC Radio London & BBC Sport website and BBC Sport app, plus live text commentary.
Every FA Cup story follows a similar pattern, David against Goliath, lower league club against top flight superstars but in Newport County v Tottenham Hotspur's case, brother kicking brother.
"It's alright mam, it's all part of the game," Cliff Jones recalls after his brother Bryn delivered hard challenge after hard challenge on his own flesh and blood as Bill Nicholson's Tottenham won 4-0 against Newport County in a third round tie at Somerton Park in January, 1960.
Spurs, a season away from winning the league and cup double, boasted a team including the sprightly Welsh winger that saw off the challenge of the Division Three side for the second consecutive season in the FA Cup having won 4-1 at White Hart Lane in the fourth round 12 months earlier.
The Somerton Park game is one that those in Newport old enough to remember still talk about fondly and on Saturday the two clubs meet for the first time since County's first fourth-round tie almost 40 years.
"I remember it was a very difficult game," Jones added. "Conditions I should imagine at Newport County were not the best, but you had to go out there and do it.
"I have to say I don't think too many of today's footballers would have relished it very much."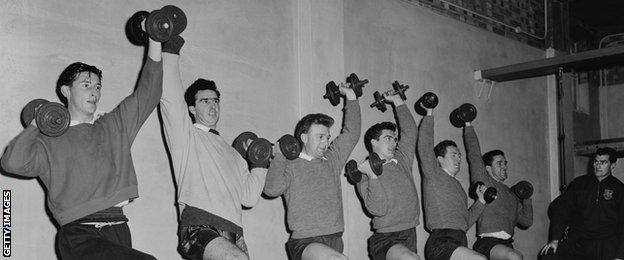 Jones played on the wing as Danny Blanchflower, Bobby Smith and a brace from Les Allen gave Tottenham victory with the legendary Dave Mackay marshalling the defence.
But the Welshman, who would go on to win 59 caps for his country, was being marked by his older brother.
"He played in both FA Cup ties against us [1959 and 1960], sort of in midfield in both of them, but he could play defensively as well. He was like one of those utility players, he could play anywhere.
"He never took any prisoners either my brother, there was an occasion where he took me right out, big time.
"Of course my mother and father were there and afterwards my mother had a go at him for kicking me.
"Did she realise that there's no friends in football? Certainly not, and we had a little smile about that. I said to her, 'Alright mam, it's all part of the game'".
"I'm just pleased that I had that sort of occasion to play against my brother, but it wasn't very pleasant because he made sure it wasn't.
"As my mother said, she wasn't very happy with him kicking his young brother like that."
'They can expect some tough tackles'
Four years later Newport, without Jones senior, would go on to beat First Division Sheffield Wednesday in the third round, their last victory against a top flight team.
Seventy seven places separated the Owls and County 54 years ago, and at Rodney Parade on Saturday the difference will be 71 as Harry Kane and company swap the luxurious surroundings of Wembley for the modest surroundings of a ground shared with two rugby teams, Dragons and Newport RFC.
"I'm sure there will be parallels with 1960," Jones added.
"You know the cup, stories of the giant killers, it's a great leveller, I think, the FA Cup.
"You can say the best side wins the league, you can also say a very good side wins the cup, but also a very lucky side as you get luck on the day, luck with the draw.
"I think Spurs will need a little bit of luck as well as some skill.
"I know that Newport County will make it very difficult for them and I'm sure it will be a fantastic game and the Newport County supporters will have something to talk about for a few years to come.
"They can expect some tough tackles, but I think there's a few of the Tottenham boys who can give it back as well which we had back then.
"We had boys that could give it and take it and I think Spurs have got their little share of players who can do that as well."
Newport County v top flight sides since 1960
| Opponent | Date | Competition | Result |
| --- | --- | --- | --- |
| Manchester City | October 1962 | League Cup | 1-2 |
| Sheffield Wednesday | January 1964 | FA Cup | 3-2 |
| Burnley | January 1964 | FA Cup | 1-2 |
| Southampton | January 1968 | FA Cup | 1-1 |
| Southampton | January 1968 | FA Cup replay | 2-3 |
| Blackpool | September 1970 | League Cup | 1-4 |
| Chelsea | September 1974 | League Cup | 2-4 |
| Everton | October 1982 | League Cup | 0-2 |
| Everton | October 1982 | League Cup | 2-2 |
| Everton | January 1983 | FA Cup | 1-1 |
| Everton | January 1983 | FA Cup replay | 1-2 |
| Everton | September 1986 | League Cup | 0-4 |
| Everton | October 1986 | League Cup | 1-5 |
| West Bromwich Albion | August 2013 | League Cup | 0-3 |
Full strength Spurs?
Eight times winners Tottenham haven't been to the final since they last won the competition in 1991. Their last trophy was the League Cup in 2008.
And that 10 year absence of silverware will convince Spurs Boss Mauricio Pochettino to field his strongest possible side according to Jones who still works for the North London club on home match days.
"Pochettino, he's a winner," the 82-year-old added.
"I'm sure he'll want to win. I'm sure there's not going to be any resting of players, I'd be very surprised if he did that.
"He'll be taking this game seriously, big time, there's no doubt about that. He's going down to Newport County to win and to pick a team that will certainly do it."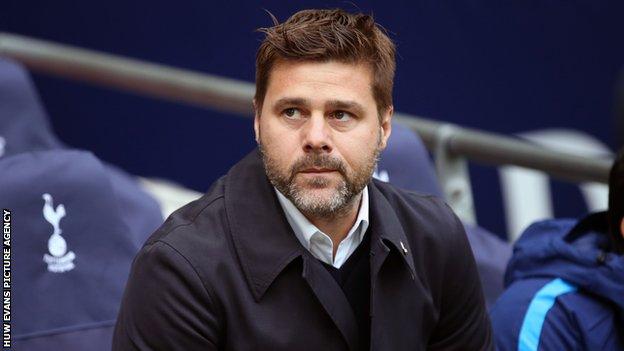 Exiles Boss Mike Flynn and his team will have other ideas as they aim to pull off the greatest result in the club's history after they reformed in 1989.
Whatever happens, a new generation of Newport supporters will have memories to rival that of 1960, and maybe it could be third time lucky in the FA Cup for the Welsh side.
"I don't think it's going to be 4-0 but there'll be some goals," said Jones.
"I think that Newport will be totally 120% committed and that counts for a great deal.
"I'm sure they'll sneak one at some stage which might make it very interesting."