Moussa Dembele: Celtic have no interest in selling striker - Brendan Rodgers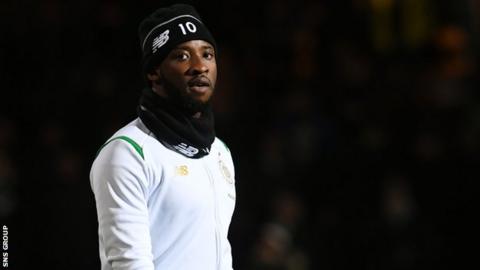 Moussa Dembele remains "fully committed" to Celtic and the club have no intention to sell the striker, says manager Brendan Rodgers.
The 21-year-old has been an unused substitute for the past two games, with Rodgers admitting that he had been affected by transfer speculation.
"We have had one official bid for him that is nowhere near the value of what the value of Moussa is," said Rodgers.
"But equal to that we have no interest in selling him."
Dembele moved to Celtic Park from Fulham in 2016 and scored 32 goals in his debut season as Rodgers' side completed an unprecedented domestic clean sweep.
He has scored eight times this seaon, which has been interrupted by injury.
"Moussa has never once asked to leave Celtic," stressed Rodgers.
"We brought him here as a talented young player at 19 and he has shown that talent.
"He has come in with a plan: his agent, himself and I know what the plan was but he has never asked once to leave."
Dembele, a France Under-21 international, is under contract with the Scottish champions until the summer of 2020.
Crystal Palace and Brighton have been linked with the centre-forward this month.
"He is an extremely talented young player," said Rodgers. "Naturally, we said a few weeks ago about a little bit of focus but it's only natural.
"But he has trained, he is working well, is working hard and he is available.
"That's as clear as I can be. In defence of the player, because it is important for supporters to understand, this is a boy that is fully committed to Celtic.
"He has been linked with so many teams so naturally the mind can wander but he is a great boy.
"He won't be like what you see in some clubs and what you have witnessed before, where players down tools. It is not the case at all.
"He is a really good boy who we want to keep here and the only thing that would ever take him away is if he didn't want to be here and if that is the case, then someone would have to meet his value and at this moment in time, neither is the case."