Tottenham: Gary Lineker says club faces 'watershed moment'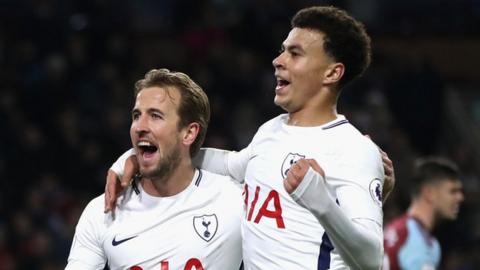 Gary Lineker feels Tottenham face a "watershed moment" as they seek to end a 10-year wait for silverware - and keep their star players.
Spurs won the 2008 League Cup but, led by Harry Kane and Dele Alli, finished second in the league last year.
They are fifth this season, but are in the fourth round of the FA Cup and last 16 of the Champions League.
"If they want to keep the likes of Kane and Alli, their star players, they'll have to pay the going rate," he said.
England forward Kane has scored 128 goals in 194 appearances for Spurs since making his debut in 2011, winning the Premier League golden boot in each of the last two seasons.
Both 24-year-old Kane and Alli, 21, are contracted to Spurs until 2022, having signed new deals at the end of 2016.
"I think Tottenham have to decide what they are. They'll also have to bring players in and challenge for titles because the great players want to win things, they want to be at places where they can do that," added former Tottenham and England striker Lineker.
"I suspect Harry Kane, he'd love that to happen, I think that would be his preference [to win things with Spurs]."
Tottenham face Newport County in the FA Cup fourth round on Saturday and Italian champions Juventus in the last 16 of the Champions League next month.
"If Tottenham don't show the same ambition perhaps as one or two of the players, then they'll get a little bit disgruntled and they might seek different areas and different places to play, so it's a bit of a watershed moment for Tottenham," said Lineker.
Kane surpassed Alan Shearer's record for Premier League goals in a calendar year in 2017, prompting the former England captain to say it is "inevitable" Real Madrid and Barcelona will eventually come calling for Kane.
Unlike Shearer, Lineker did play overseas, having joined Spurs after a three-year stay at Barcelona.
"When those big boys come calling, it's quite difficult," added Lineker.
"It depends on your personality and what you want out of life and where you want to go, so we've all got different circumstances, so we'll have to wait and see."
Lineker also remains the only Englishman to have finished top scorer at a World Cup, with Kane set to lead the line for England in Russia later this year.
Kane has scored 12 goals in 23 appearances for England, including five goals in the successful qualifying campaign for Russia.
"Harry Kane is more capable of scoring different kinds of goals than I was but you still need a team behind you to support you to get yourself in that position," said Lineker.
"If he wins the Golden Boot, it means England will be doing pretty well, which will be a great thing."