Carlos Carvalhal: Signings more likely as transfer window closes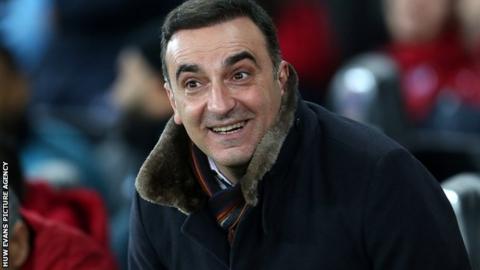 Swansea City manager Carlos Carvalhal remains confident of improving his squad before the transfer window shuts.
Carvalhal was targeting three new signings and says that is still a realistic prospect with only six days remaining until the end of the window.
"I think it is the opposite," he said, when asked if Swansea's hopes of making signings were dwindling.
"It is more likely that we bring in players in the last few days of the window than it is in the first days."
Carvalhal, who has lost just one of his first six matches as Swansea boss, says players who would not have fancied joining the club earlier in the month are now more likely options.
"The clubs, the players, at the start of the window they want to all go to big clubs, not in the relegation positions and so on," he continued.
"But in the last days that situation can shift, people get nervous and it is in this moment that I think our club and other clubs can bring in really good players.
"But if you are asking me whether we still want the players? We want of course. But the reality of the market is completely different."
Swansea had a bid for their former striker, Andre Ayew, rejected earlier this week and have also been linked with a move for Atletico Madrid winger Nicolas Gaitan.
The club are also thought to be keen on FC Augsburg's Ghanaian defender Daniel Opare.
Britton has role at Swans if he wants it
Carvalhal dampened fears that the club could be set to split from midfielder Leon Britton, who told the BBC he is likely to wretire at the end of the season if he is not offered a new deal.
Britton was offered a role on Carvalhal's coaching staff, but turned it down to continue his playing career.
However, while failing to rule out a first team recall for Britton, who has played just four times this season, Carvalhal made clear the offer of a coaching job is one that remains open.
"So when I invite him to be an assistant, he preferred to play and he's a very good professional coming back from injury," he said. "He played 60 minutes for the under-23s and he asked for that to get more minutes.
"If we choose him or not, depends on the team, let's see, I can't say. At the end of the season he will reflect on what he wants to do.
"I think he's got a clever mind to think about it. I can't give an answer on his future and I don't think at this time Leon can either.
"If he decides to be assistant coach tomorrow, the place is waiting for him, it depends on him.
"There is no-one else, I invite him and when he said he wants to continue playing, that place remained open to him.
"The place on my staff is totally open for him."
The FA Cup is special
Carvalhal acknowledged before Swansea's excellent Premier League win over Liverpool that it was a "David versus Goliath" contest, with the Welsh side in the role of David.
However, ahead of their FA Cup visit to Notts County, Carvalhal admitted Swansea are now in the role of Goliath in a competition that means a lot to him, but he believes is being diluted by the congested fixture calendar.
"I know about the FA Cup and will tell you why. When I was young, a long, long time ago with black and white on the TV, the final of the cup in England was the only live football we could watch," he said.
"In my childhood, I would wait for the final of the cup and it was unbelievable, as a boy who loved football, I loved it, it was fantastic.
"I know it is fantastic, what is not working is the calendar, the calendar is very bad.
"Sometimes you play Saturday to Saturday or Saturday to Tuesday and now we are three days away from the Arsenal game and playing in the cup.
"It is not good for the cup. They should give more days for the cup so all coaches can put out their best teams.
"Ahead of playing Arsenal I must think 20 times about what to do with the team."