Stadium for Cornwall: Truro City squad not affected by ground uncertainty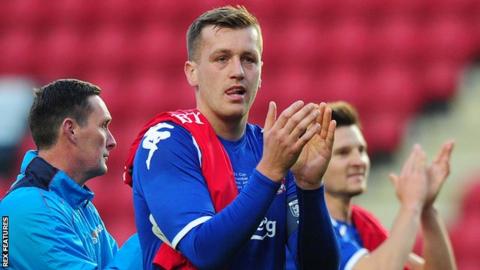 Truro City captain Ben Gerring says uncertainty over the Stadium for Cornwall is not affecting the team.
City will move out of their Treyew Road home this summer and need to move in to the new stadium in time for the start of the 2019-20 season.
But the project needs £6m of public money in order to go ahead in time.
"What happens or what has been said just goes in one ear and out of the other, it doesn't even enter the dressing room," said Gerring.
He told BBC Radio Cornwall: "It's just one of those things that you've got to let go out of your head, it's out of our control.
"It doesn't affect our salary, it doesn't affect our futures, it doesn't affect us at a training session, it's completely out of our hands."
Truro, who are sixth in National League South, are still looking for a venue for next season.
A number of grounds in Cornwall have been earmarked if they stay in National League South, while sharing at Torquay United's Plainmoor ground is a possibility if they are promoted to the National League.
Gerring says if there was a development that the squad needed to be informed about, he would expect to be told first.
He continued: "I know nothing about it and I'd expect me to know a little bit more about it than the team.
"If the gaffer was concerned then I'd expect him to pull me on it but nothing's been said about it."