Leon Britton: Swansea City midfielder could retire at end of season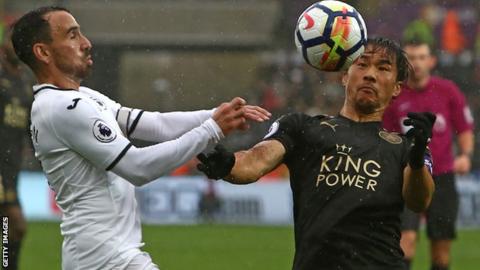 Swansea midfielder Leon Britton says he could retire if he is not offered a new deal to remain at Liberty Stadium beyond the end of the season.
The 35-year old has played more than 500 games since joining the club in 2002 and worked as a coach under previous manager Paul Clement.
Britton has made only four appearances for Swansea this season.
"I do feel a little bit like if I don't want to play here I don't want to play anywhere else," Britton explained.
"Do I want to go back down the leagues? I am not too sure I want to do that," he continued.
"So it would be very difficult. So I feel if I finish playing here then I probably would retire."
Looking to the future
Britton says his future is now in the hands of club bosses as he will not hit the target in his contract of 20 appearances to trigger a one-year extension.
"You have to look to the future. I am in a situation if I don't make a certain amount of games that my contract ends in the summer," he said.
"I will speak with the club in the coming months to see their thoughts and their ideas. Then I can sit down and think for myself and try and plan for the future.
"Retire at the end of the season and maybe go in a different direction or whether I carry on playing, I don't know?
"It's coming up to the time and it flies by in football and I have to think about it.
"It's a bit early for me to make that decision, but hopefully I will sit down with the club in the coming months and see what their thoughts are."
Something to offer
Britton says he understands the situation but believes he still has something to offer the club.
"I am not playing as much as I used, I understand I am older and they are looking to the future," he said.
"I still feel fit. Hopefully I can get some game time until the end of the season and see where we go from there.
"I still feel as if I can do a job, but it's down to the club who decide who they offer the contracts to."
Offered a coaching role
Britton was removed from the Swansea coaching set-up when new boss Carlos Carvalhal was appointed, but says he could have remained on the coaching staff, if he had hung up his boots.
"I was asked. I spoke with the chairman and the manager and they wanted me to remain on the coaching staff," he said.
"The manager wanted me to fully commit to the coaching staff or a player. I felt for me at this moment in time it was right for me to stay on as a player.
"You speak to a lot of players and you are a long time retired.
"I have still got that opportunity, maybe, when I have finished playing to hopefully go on the coaching staff or the academy."