Glenavon midfielder Joel Cooper agrees pre-contract deal with Linfield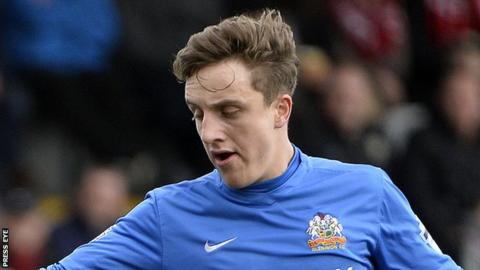 Glenavon midfielder Joel Cooper has signed a pre-contract to join Linfield on a three-year deal from the start of the 2018-19 season.
Cooper signed for Glenavon from Ballyclare Comrades in July 2015 and made a impact a big impact at the club.
The Northern Ireland Under-21 player left to go to the USA on a scholarship in August but recently returned to play for Glenavon.
Cooper was not in the Glenavon squad for Saturday's 3-2 win over Linfield.
He departed last summer to take up a two-and-a half-year scholarship and study for a degree at the University of New Hampshire but made a surprise appearance in the Mourneview Park club's starting line-up for their Irish Premiership game against Ballymena United on 30 December.
Cooper subsequently scored two goals in the Lurgan Blues' match at Ards on 2 January but the game at the Bangor Fuels Arena was halted early in the second half because of dangerously high winds.
A statement on the Glenavon FC website said: "Glenavon FC can now confirm that Joel Cooper has signed a pre-contract agreement to join Linfield FC when his current contract with our club expires in May of this year.
"The player informed the manager of his decision on Sunday afternoon.
"Glenavon FC can also confirm that earlier this month the player had been offered a new improved three-and-a-half year contract to continue his career with our club at least until May 2021."