The SPFL and Ladbrokes to promote 'responsible gambling' as part of new deal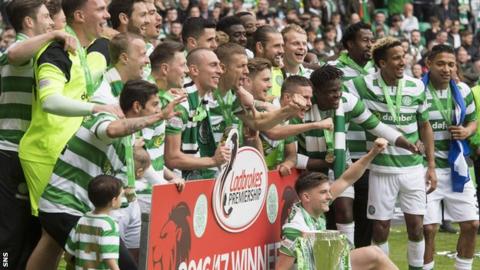 The Scottish Professional Football League and Ladbrokes have confirmed a new two-year sponsorship deal with both vowing to promote responsible gambling.
The bookmaker, which has backed the four divisions since 2015, will remain title sponsor until at least 2020 in a deal worth up to £5m over two seasons.
Scottish football has received some criticism for its reliance on sponsorship from betting firms.
But SPFL chief executive Neil Doncaster said he is "thrilled" with the deal.
Ladbrokes' initial £2m-per-year contract with the league began in 2015 and was then extended to the current season.
"We have enjoyed a superb partnership since they first came on board in 2015 and are confident that will continue and flourish until 2020 and hopefully beyond," said Doncaster of the improved contract.
"We are also aware of our social responsibilities as a senior professional league in Scotland and will continue to promote a message of responsible gambling in conjunction with Ladbrokes."
Scottish players union chairman John Rankin last year warned that gambling is rife among managers, referees, directors and chairmen.
Former Rangers midfielder Joey Barton, Aberdeen director Duncan Skinner and Annan Athletic chairman Henry McClelland are among those who have fallen foul of Scottish football's rules against gambling.
Ian Black, the former Hearts, Inverness Caledonian Thistle and Rangers midfielder who was the first Scottish player punished for a gambling offence in 2013, is among those who has suggested that it is hypocritical of governing bodies to take sponsorship money from bookmakers.
However, Ladbrokes stressed that it has played a key role in industry initiatives to promote responsible gambling, including linking executive pay to responsible gambling targets and playing an active role in the use of industry-wide responsible gambling advertising.
It says that, as part of its plan for the 2018-19 season, it intends to work with the SPFL to promote responsible gambling both within the game and with the wider football fan base.
Ladbrokes Coral Group chief executive Jim Mullen added: "We knew when we started the sponsorship that we were associating with a sport that is followed with passion and dedication and it has proved to be an excellent partnership.
"We also want to make sure that it reflects that gambling should be fun, not a problem, and that is why our continued sponsorship will enable us to promote responsible gambling and work with clubs to ensure that the integrity of the sport is upheld.
"We take our role as a sponsor seriously and we take our role to help customers keep gambling fun just as seriously."