Craig Harrison: Hartlepool United squad 'must focus on games' despite off-field issues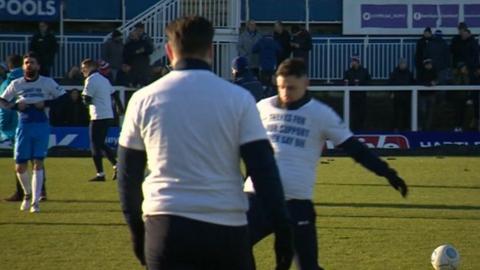 Hartlepool United players must ignore the club's precarious off-field situation and focus on football, says boss Craig Harrison.
Pools were left to ponder an uncertain future after potential investor Craig Musgrave withdrew his interest in a takeover at Victoria Park on Tuesday.
A few hours later, Harrison's side drew 1-1 at Chester in the National League.
"Whatever is happening with that is not for me to be involved with, because I can't control it," Harrison said.
The 40-year-old told BBC Tees: "All we can try to do is hold up our end of the bargain and perform on the football pitch."
The extent of the financial difficulties faced by Hartlepool came to light earlier this month when it was revealed two parties were interested in buying the club.
It was also discovered was that between £125,000 and £150,000 was required each month to cover salaries and costs, and Pools were likely to struggle to meet those.
Fans subsequently pulled together to raise money to meet January's commitments, and chairwoman Pam Duxbury revealed six potential investors had come forward.
However, Musgrave's interest was the firmest and his decision to pull out of the running is a considerable blow.
The team's form has slumped, and they have not won for 10 games, but Harrison says the players' effort and application has not wavered.
"Every day we come in to training to work hard, be professional, and make ourselves better," he added.
"When we give battling performances like that and add quality to it, the supporters are happier about what we gave today and are more positive about it."