Phil Neville: England women head coach sorry after 'sexist' tweets criticised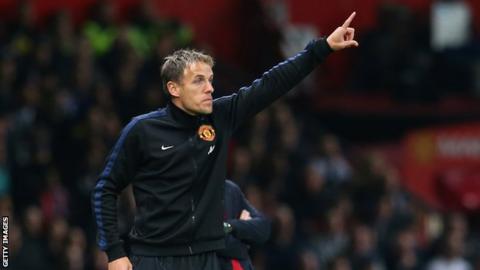 New England women's head coach Phil Neville has apologised for past controversial tweets about women.
The ex-Manchester United defender, 41, was named Lionesses boss on Tuesday but was accused of making sexist comments on the social media site in 2012.
In one tweet, he suggested women would be too "busy making breakfast/getting kids ready" to read his messages.
Neville said his comments were not "a true and genuine reflection of either my character or beliefs".
Sports minister Tracey Crouch called his past remarks "ill-advised".
Former England full-back Neville takes over from Mo Marley, who had been in interim charge since Mark Sampson's sacking.
In a statement released by the Football Association, he added: "I am fully aware of my responsibilities as the England women's head coach and am immensely proud and honoured to have been given the role.
"I am now looking forward to the future and will work tirelessly to try and help bring success to the team."
It is understood the FA was aware of Neville's tweets before his appointment.
FA urged to charge Neville
Campaigners have criticised the appointment of Neville, who has coached at former club Manchester United, Valencia and England Under-21s but has only managed one game - at Salford City, a team he co-owns.
And equality group Kick It Out has asked the FA whether it will level a disciplinary charge against Neville for appearing to make "misogynistic and sexist comments".
Meanwhile, sports minister Crouch said: "While it is not my job to pick England managers, the FA needs to ensure that it has transparency around the process so that fans and football stakeholders alike are confident in it.
"It is right that Phil Neville has apologised for his ill-advised, historical remarks. Sexism of any kind must not be tolerated."
Neville deleted Twitter account
Neville's appointment produced a mixed reaction, and after saying on Twitter how "proud and honoured" he was to take on the role, he quickly added "see you all soon" after past tweets came to light.
In posts dating from 2012, he had said: "Morning men, couple of hours cricket before work sets me up nicely for the day."
When people responded asking whether he would address women, he clarified in another post: "When I said morning men I thought the women would [have] been busy preparing breakfast/getting kids ready/making beds-sorry morning women!"
Other users picked up on comments Neville had made when interacting with his sister and with his wife - and one in which he joked he had "just battered the wife".
After those posts gained thousands of retweets, Neville then deleted his account, which had 1.6 million followers.
Neville's contract runs through to the end of the 2021 Uefa Women's European Championship campaign.
But he will first lead the Lionesses - ranked third in the world - at the 2019 World Cup in France, where they will be among the favourites.
'Kick in the teeth' - Appointment criticised
Kick It Out chief Roisin Wood said the organisation had serious concerns over the appointment "of someone with no record of management or experience in women's football" and would be making representations to the FA.
The Women's Sport Trust said: "To see a high-profile, former professional footballer virtually parachuted in to such a significant role in football without the level of experience required, undermines the coaching pathway and will be a blow to hundreds of football coaches, both male and female, currently working towards their badges at all levels."
A statement from the Women In Sport group said it felt like "a kick in the teeth to the team" and added that just 17% of professional sport coaches in the UK were female.
But the England men's manager Gareth Southgate told the BBC there had been "a very thorough process around applications and interviews" for the women's job.
"I guess, how do you get that experience without an opportunity? I wish him well, first and foremost," he said.
"Hopefully for them now, as a team, everybody can start focusing on the football and how they progress."
Neville was also backed by his former United team-mate Ryan Giggs, recently named boss of the Wales men's team despite limited managerial experience.
"That's what you've got to come to terms with when you get these sorts of jobs - a bit of flak - but all I can say is I've known Phil for a number of years, and he'll do a really good job," he said.
Analysis
BBC sports editor Dan Roan
Yet again the FA are under fierce scrutiny over a managerial appointment that threatens to become another farce.
In 2016 the governing body faced questions over its due diligence when Sam Allardyce was sacked after just one match in charge of the England men's team following a newspaper sting.
Last year Mark Sampson was dismissed as England women's manager for "inappropriate & unacceptable" behaviour with female players in a previous role. That - along with the crisis sparked by Eni Aluko's racism allegations against him - meant the appointment of his replacement was crucial. The FA simply had to get it right.
Yet here we are, with Neville incredibly forced to apologise for sexist and ill-advised tweets - including one appearing to make light of domestic violence against women - on his first day in the job.
The FA needs to explain why - if they knew about these tweets before hiring him - they failed to foresee the controversy they would inevitably generate. And both they - and Neville himself - might want to front up and explain themselves at a proper press conference before the situation spirals out of control.
'Lack of suitable female candidates'
The former Manchester United and Everton midfielder played 59 times for England and has won 10 major trophies, including six Premier League titles.
But his first taste of women's football will involve taking on the top two teams in the world - United States and Germany - plus France, in the She Believes Cup, starting on 1 March.
Predecessor Sampson was sacked from his position following evidence of "inappropriate and unacceptable behaviour" in a previous role.
Under Sampson, England reached the Euro 2017 semi-finals, losing to eventual winners the Netherlands, having come third at the 2015 World Cup - their best finish at the tournament.
Former England women goalkeeper Rachel Brown-Finnis would have preferred to see a woman appointed as his successor, but believes there were no suitable candidates.
"I think they shouldn't hire someone just because they're female," she told BBC Radio 5 live.
"Phil Neville doesn't have that senior level management experience but what he does bring is pretty unique.
"He trained and played as a top-level player in an era when Manchester United won everything. He has that level of excellence that the players will thrive on."
Another former England goalkeeper, Pauline Cope-Bonas, was far more critical of Neville's appointment.
"He got it because of his name," she said. "No disrespect to him and I'm sure he'll go on to do a good job purely because he's got world-class players there. They don't need to be coached, they just need to be managed.
"A lot of people are disappointed because probably he hasn't been to a women's game. He's never worked within the women's game and that's the crux of it.
"It is different. We deal with emotional things, women have women's problems, monthly problems, relationship problems. "
Former England defender Danny Mills called it a "left-field" appointment.
"What has happened to the FA Player Pathway? St George's Park was supposed to be promoting coaches from within," he said.
"Phil has never been a number one anywhere else before. He's now going into a team that's third in the world. How can he just jump above everybody else?"
What are Neville's credentials?
Neville, who has a Uefa Pro Licence and lives in Valencia, was an assistant to England Under-21 boss Stuart Pearce in their disappointing 2013 European Championship campaign.
He joined David Moyes at Old Trafford, where he lasted the 2013-14 season, despite the Scot being sacked.
His next top-level coaching job was at Valencia in Spain's La Liga, where he was appointed coach in July 2015 and left soon after brother Gary was dismissed as manager following a run of three wins in 16 league games.
Neville's experience and knowledge of the women's game is understood to be limited.
Who were the other candidates?
The FA was keen for a woman to replace Sampson but was forced to look elsewhere after early potential appointments dropped out of the running.
Chelsea boss Emma Hayes pledged her future to the club, and former Arsenal head coach Laura Harvey took up a new role with the Utah Royals in the US.
Englishman John Herdman was also a contender prior to being named head coach of Canada's national men's team after more than six years in charge of the country's women's team, and Manchester City boss Nick Cushing was interviewed but signed a new contract with his club.
Marley also applied for the role having spoken of her desire to give the England players "stability", but later withdrew from consideration.
Marley will now return to leading England women's development teams, including taking a squad to this summer's U20 World Cup.
During her time in charge, she led England to victories in World Cup qualifiers against Bosnia & Herzegovina and Kazakhstan - in which they scored nine goals and conceded none - as well as a friendly defeat by France.