Ross Allen: Ex-Guernsey FC forward aiming for OFC Champions League after New Zealand move
Last updated on .From the section Football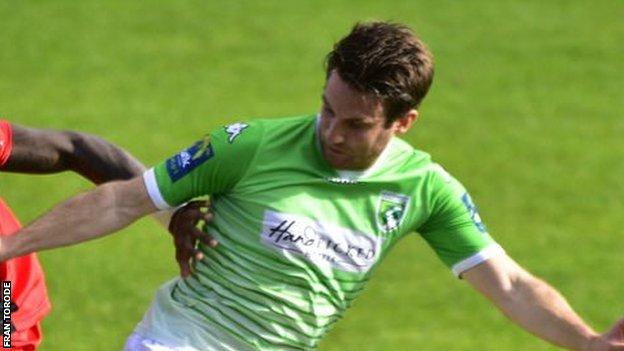 In English non-league football Ross Allen has been something of a legend.
Since emigrating to New Zealand in November, he has joined the country's champions Team Wellington - and begun his career with a debut goal.
"I've been really welcomed by all the players and coaches and the more time I spend around everyone I've felt more and more comfortable," Allen told BBC Radio Guernsey.
"Training's gone well and the debut game also went really well."
Champions League aspirations
Having gone travelling in 2016, Allen made up his mind to leave the island in which he has become a local football legend and spread his wings.
After doing some more exploring before Christmas he felt it was time to put his boots back on and, despite living in hostels as he travelled around, impressed enough in a trial to be offered a deal until May at Wellington.
As Team Wellington won the New Zealand's Premiership Grand Final last April, they have qualified for the group stages of the OFC Champions League - Oceania's top club competition.
They will travel to Honiara in the Solomon Islands to take part in a group consisting of hosts Marist FC, New Caledonia champions AS Magenta and another side yet to qualify.
With the tournament's eventual winners going to the Club World Cup, Allen has the chance to face the Champions League or Copa Libertadores winners - not bad for a player who had been taking on clubs such as Shoreham and Whyteleafe earlier in the season.

"I'm just waiting to find out if I'm selected because we can only take three foreign players and there's currently four in the squad," Allen said of his Champions League hopes.
"At the moment I'm not really thinking about that because I don't even know if I'm going to be able to be involved.
"But if I do go and get selected for that, it'll not only be an extra amount of games, but a really good opportunity to see some other places and some other teams from the Oceania region.
"It's one of the reasons I came out here, to do stuff like this, to explore, travel, play football and against some of the best teams in the area."
Guernsey FC's Allen-less struggles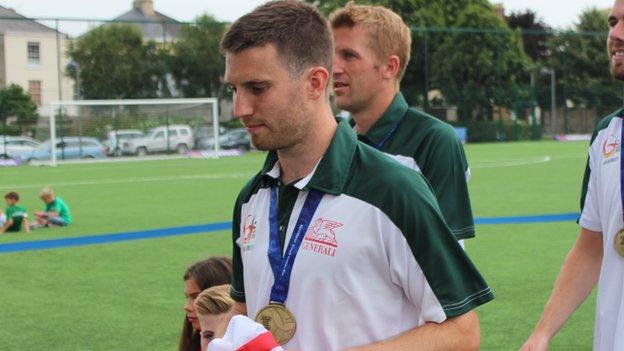 Allen signed off his time with Guernsey FC with a hat-trick in a 5-2 win over Shoreham in November and the club has certainly missed him since.
In his time at Guernsey FC, Allen scored three or more goals on 28 occasions - 20 hat-tricks, five four-goal hauls, twice scoring five times in a game and once netting six.
But they have won just once in the 10 games since he left, scoring eight goals and conceding 31 in that time. Allen finds out their results from emails from his father, who still attends the club's home games.
"They're obviously in a tough spot at the moment and I wish them all the best," added Allen.
"But I know those guys have been through it before. There's enough quality and talent in that squad to keep fighting and pushing up that table.
"There's a bit of a natural hole with me leaving, but someone will come in and fill that spot and start scoring some goals, so I'm not worried and I don't think anyone within the club's overly worried with their current form."