Alexis Sanchez: Man Utd newcomer says Thierry Henry did not tell him to leave
Last updated on .From the section Arsenal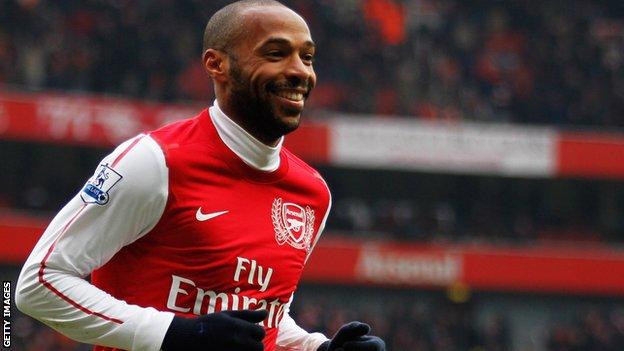 New Manchester United signing Alexis Sanchez says Arsenal legend Thierry Henry did not tell him to leave, and it was a "personal decision".
After signing for United in a swap deal with Henrikh Mkhitaryan, Sanchez referenced a "conversation" with Henry.
That led some Gunners supporters to question the Frenchman, who responded on Tuesday: "At no time did I tell Alexis Sanchez to leave Arsenal."
Sanchez said Henry - who left for Barcelona in 2007 - "loves" the club.
The Chilean wrote on Twitter: "Someday it would be nice to see him as the Arsenal coach."
After his move to United was confirmed on Monday, Sanchez posted on Instagram: "I remember today a conversation I had with Henry, a historic Arsenal player, who changed club for the same reason and today is my turn."
Some interpreted that as Sanchez suggesting Henry - Arsenal's all-time record scorer with 228 goals - had told him to leave.
The former France international responded: "I had no idea he was going to sign for Man Utd until I saw it on the news like the rest of you."
Sanchez scored 80 times for Arsenal after joining the club from Barcelona for £30m in July 2014.
The 29-year-old has signed a four-and-a-half-year contract.