Joey Barton claims 50% of professional footballers bet on matches
Last updated on .From the section Football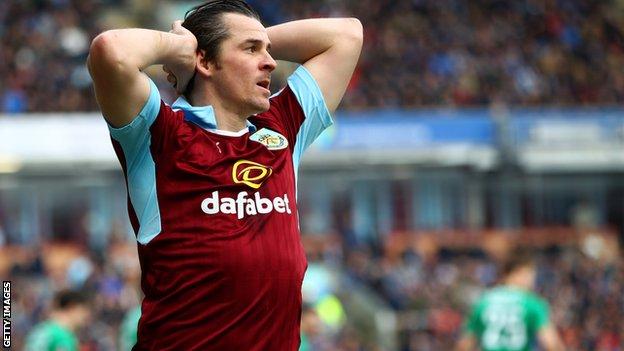 Ex-England player Joey Barton claims "50%" of professional footballers bet on matches, and says gambling is "culturally engrained" in the sport.
The former Burnley midfielder, 35, was banned by the Football Association in April 2017 for breaching betting rules.
He was found to have placed 1,260 bets on football matches over 10 years.
"I think if they found out everyone who has been betting and cracked down on it, you'd have half the league out," he told BBC Radio 4's Today programme.
"I think 50% of the playing staff would be taken out because it's culturally engrained."
Barton - who also played for Manchester City, QPR, Newcastle, Marseille and Rangers - was fined £30,000 and initially banned for 18 months.
That suspension was later reduced by almost five months after he appealed against its length. He can return to football on 1 June 2018.
Barton, who said he was addicted to gambling, says he placed 15,000 sports bets in 12 years, and admits his addiction is a "constant battle".
Players in England's top eight tiers are banned from betting on football.
Barton - who won one England cap - bet on some matches in which he played, but said at the time he was banned that it was not match-fixing.
He also called on the FA to do more to tackle the culture of gambling in football.
"Where we've got it wrong is that we've got the gambling rules mixed up with the match-fixing rules," added Barton.
"Match-fixing is wrong and challenges the integrity of the sport, it's the same as taking performance-enhancing drugs.
"I think culturally betting is acceptable. There's nothing wrong with betting if it's controlled - it's when it becomes out of control and people bet beyond their means.
"My point to the FA was, how can they be so stringent when they have an official gambling partner?
"I believed that no-one cared about betting. I thought they just cared about match-fixing.
"I'd had a betting account in my name for 12 years. I was doing things for betting companies and they were paying me in betting account money - they weren't informing the FA."
What about the FA's stance?
The FA ended all of its sponsorships with betting companies in June 2017 following a three-month review.
A statement from English football's governing body said: "The integrity of football in England at all levels is of paramount importance.
"We would urge anyone with any evidence of a breach of our regulations to come forward with information."
Former FA chief executive Adrian Bevington told BBC Radio 4: "It [50%] seems an anecdotally large number.
"It's a very simple rule. It's very clear - and something I support wholeheartedly - that anyone involved in the game should simply not be allowed to bet on football.
"It keeps it clean and everyone knows the rules that way."