Jimmy Armfield: Blackpool and England legend dies at the age of 82
Last updated on .From the section Football401
Former England captain Jimmy Armfield has been described as "a national hero", after his death aged 82.
Armfield, who played a club record 627 times for Blackpool, was part of England's 1966 World Cup-winning squad, but did not play in the final.
He went on to manage Bolton and Leeds in a career that also saw him work for the Football Association and BBC Radio.
Professional Footballers' Association chief Gordon Taylor said football "is much diminished with our loss".
Armfield had been receiving treatment for cancer, after the illness returned for a second time in 2016.
Taylor, who counted Armfield as a personal friend, said he was "a national hero", "football legend" and "Blackpool icon" and "will be sadly missed by all who knew him".
"He had time for everybody and made the world a better place with his love for life and all his many activities for his charities, hospitals, his church and his devotion to his wife Anne, his sons Duncan and John and their wives and his grandchildren."
Armfield's family say he "passed away peacefully" surrounded by those closest to him.
Their statement went on: "Jimmy had two great loves - first and foremost was his family, to which he was devoted and loved dearly. The other was football, especially Blackpool, England and his colleagues at the PFA."
Armfield, who played for Blackpool for 17 years, was the club's captain for more than a decade.
The right-back made the first of 43 international appearances in 1959 and was England skipper for 15 matches between 1962 and 1966.
He was made England captain in 1962 and looked set to skipper Alf Ramsey's team at the World Cup in 1966 but a toe injury meant he did not play as England went on to win the tournament.
Armfield was given a winners' medal by Fifa 43 years later.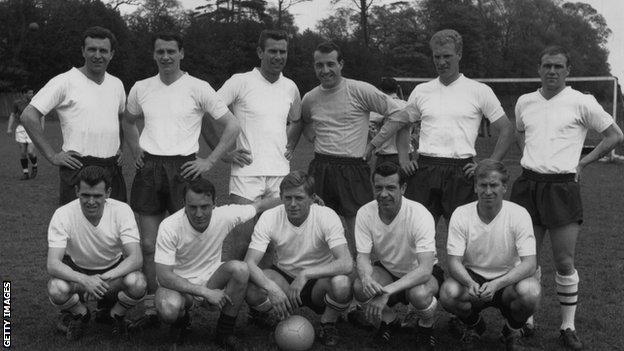 Sir Bobby Charlton, another World Cup winner, first played alongside Armfield in an army side during national service.
He said Armfield went on to become regarded as "the best right-back in Europe in the early 1960s".
"As an opponent, team-mate and friend he was, without doubt, one of the most honest and genuine gentlemen I had the good fortune to meet," he added.
"I have missed listening to his authoritative radio commentaries and now I will miss seeing Mr Blackpool around the scene."
Sir Geoff Hurst, who played with Armfield twice in the run-up to the 1966 World Cup, said: "Jimmy was a great part of our group at the World Cup, one of the great full-backs, and one of the nicest guys you could wish to meet.
"I got to know him more after the World Cup, playing golf and at the reunions. Just an absolutely super guy and a sad loss."
Hurst added Armfield dealt with the loss of his England place to George Cohen "with great dignity, that was typical of Jimmy".
Howard Wilkinson, chairman of the League Managers' Association, said: "Jimmy's contribution to the game at so many levels is immeasurable. Despite the pressures, success at any price never became an option for Jimmy. He epitomised the beautiful game in thought and deed. A true gentleman."
Blackpool council leader Simon Blackburn said flags are flying at half-mast at the town hall.
He added: "His impact was absolutely huge. He found fame because of football but there was so much more to him than that. He was a big part of the community. A freeman of the borough."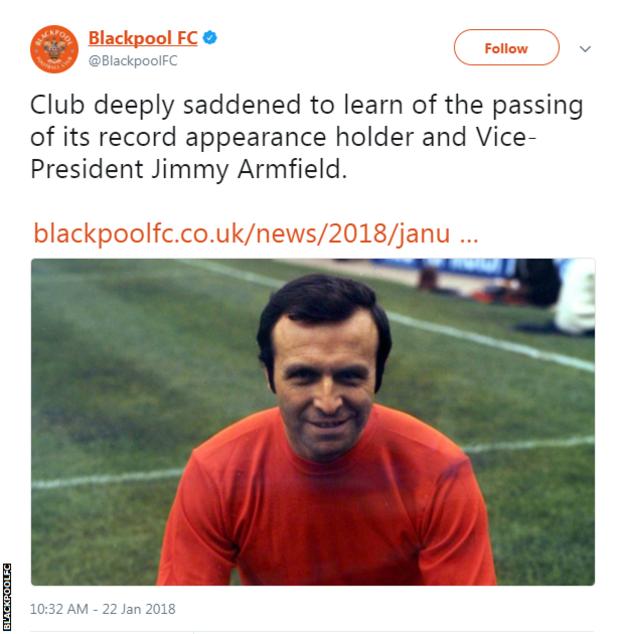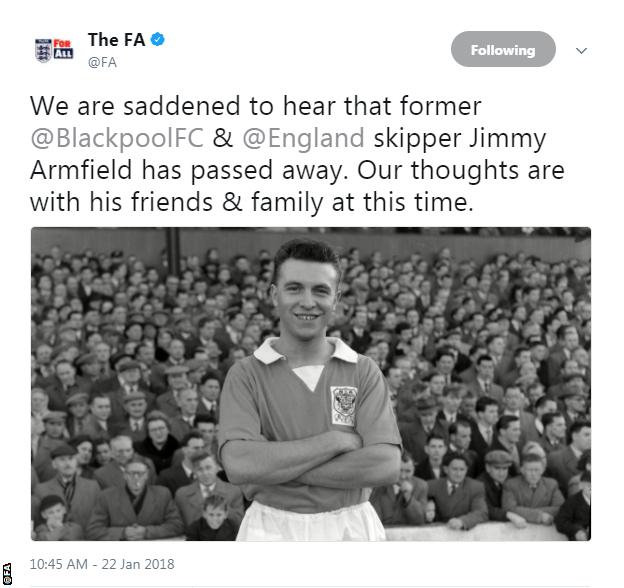 As well as his achievements as a player, Armfield enjoyed success as a manager.
He won promotion to the old Second Division with Bolton Wanderers in 1973.
Two years later, he succeeded Brian Clough at Leeds and guided them to a European Cup final, where they were beaten 2-0 by Bayern Munich.
'A wonderful footballer'
Armfield is described in the National Football Museum Hall of Fame as "the first overlapping full-back".
"The pioneering right-back used to get forward at every opportunity in an era where players in his position rarely ventured beyond the halfway line."
Clubs and former players have paid tribute to the defender for his character both on and off the field.
Former England striker and BBC Match of the Day presenter Gary Lineker said he was "a wonderful footballer and England captain who went on to be a terrific broadcaster of the game he loved, and, most importantly, he was a delightful man. He'll be much missed."
Phil Neville, who played 59 times for England, described him as "a wonderful humble man".
Former England captain Alan Shearer added: "You couldn't wish to meet a warmer, more engaging man than Jimmy Armfield. A proper football man and a gentleman."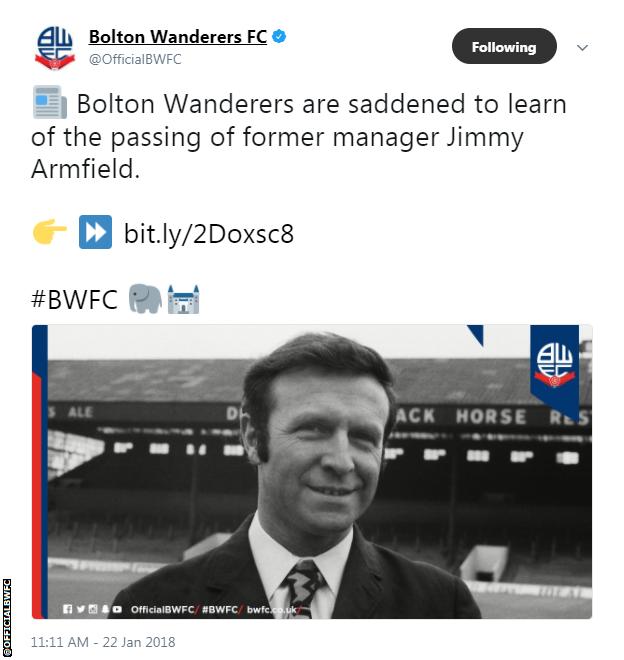 'The epitome of a football man'
Armfield was inducted into Blackpool's Hall of Fame in 2006 and a new stand at the club's ground was named in his honour in 2010.
He brought his experience to the forefront behind a microphone, working as a football summariser for BBC Radio for almost 40 years.
John Murray, who worked alongside him for BBC Radio 5 live, said he was "a popular man, a friendly man - the absolute epitome of a football man".
The BBC's Pat Murphy also paid tribute, saying: "Jimmy Armfield was born avuncular, with a twinkly wisdom and kind nature that belied the steel needed to prosper in football. He wore his great knowledge modestly and with dignity."
Phil McNulty, the BBC's chief football writer, added: "This is such sad news. Not just a former England captain but also a wonderful broadcaster and an absolute gentleman. One of the nicest, most genuine men you could meet."
BBC Breakfast and Football Focus presenter Dan Walker said he had spent many hours listening to Armfield.
"He was such a friendly, humble and kind individual. We have lost a true gentleman."
And BBC Radio 5 live's Juliette Ferrington said: "I loved working with Jimmy. He was a brilliant broadcaster, but most of all he was an absolute gentleman; thoughtful, loyal, generous and kind. I feel so lucky to have spent time in his company."