Eden Hazard: Chelsea do not need to buy a striker
Last updated on .From the section Chelsea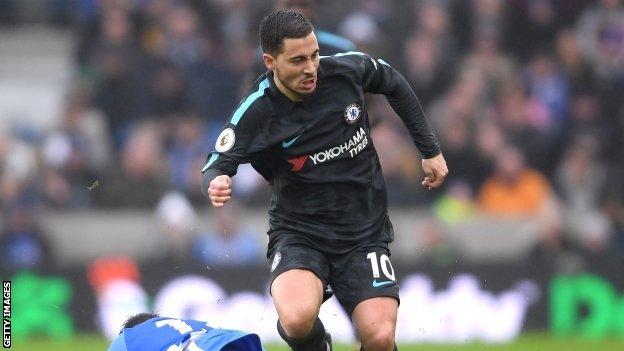 Chelsea midfielder Eden Hazard does not believe the club need to buy a new striker in the January transfer window.
Chelsea have enquired about Roma's Edin Dzeko, 31, West Ham's Andy Carroll, 29, and Stoke's Peter Crouch, 36.
But Hazard, 27, has backed current pair Alvaro Morata and Michy Batshuayi and says tall target men may not fit into the Premier League champions' style.
"I think we're happy with the team we have. It depends how you want to play," he told the London Evening Standard.
"We have two very good strikers in Alvaro and Michy. If they are not ready to play I can play striker, so I don't think we need [another one].
"Football is simple - keep the ball on the ground and try [to play] like we did [against Brighton].
"Because we are missing chances people are saying we need another striker, but if we are scoring goals, we are the best attack in the league and no-one can say we need a striker."
Chelsea have scored 45 league goals this season, the same as Arsenal but fewer than the rest of the top six Premier League sides.
Asked about Chelsea's contact over a possible Crouch deal, new Stoke manager Paul Lambert said: "I've no intention of letting him go. I don't want anybody leaving - we need everybody."
Chelsea are also reportedly in advanced talks with Roma about a £44m deal for Bosnia striker Dzeko and left wing-back Emerson Palmieri.
But Hazard, who scored twice in his side's 4-0 win over Brighton on Saturday, says the arrival of a big man could have an impact on their playing style.
"Who is the best team this year? Manchester City. The strikers, [Gabriel] Jesus and [Sergio] Aguero, are not big," added Hazard.
"It's simple. If you want to play with long balls you need a target man, if you want to keep the ball on the floor you need a small guy."