Osian Roberts in Wales role talks with manager Ryan Giggs
Last updated on .From the section Wales35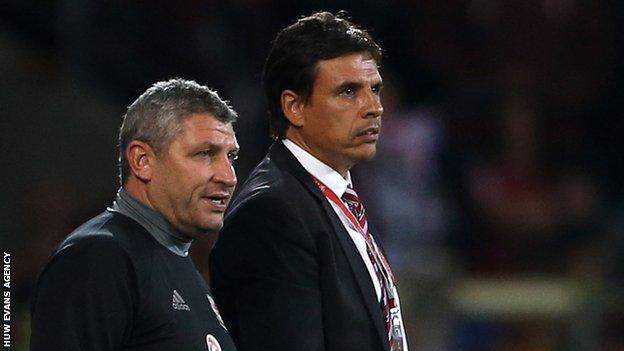 Osian Roberts says he is in ongoing talks with new Wales manager Ryan Giggs about being part of his backroom staff.
Roberts was assistant manager under former boss Chris Coleman, who led Wales to the Euro 2016 semi-finals before failing to reach the 2018 World Cup in Russia.
"Ryan and I have spoken," Roberts confirmed, adding there are "no sticking points" between them.
But Roberts says Giggs must be confident in the appointments he makes.
"We're continuing to have dialogue and we'll see what happens as we continue to discuss things," said Roberts, the Football Association of Wales technical director.
"The important thing at this stage is that we both are clear about how we see things. Do we see it as the way forward for the national team?
"The important thing is that Ryan has 100% commitment and trust from the staff that he has working for him. He must feel that as a manager.
"So hopefully we'll be in a situation soon to make it clear that whichever way this works, then it's the best thing not only for Ryan, but for Welsh football."
'Vacancies within the set-up'
Roberts is aware of reports linking Giggs' former Manchester United team-mates Paul Scholes, Nicky Butt and Mike Phelan with roles in the Wales set-up.
"There's been plenty of rumours, but as far as I'm aware I think he's still in discussions with two or three potential members of staff," Roberts told BBC Radio Cymru's Post Cyntaf programme.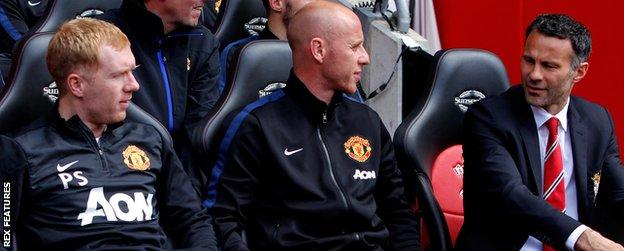 "There's obviously vacancies within the current set-up.
"The important thing is that he gets the dynamics of that group right because we need to hit the ground running going into the China Cup.
"So it's important he takes his time and we get the right conclusion."
Trust and '100% commitment to succeed'
Roberts says he would not find it difficult to work for Giggs, having also applied to succeed his former boss Coleman.
"I see it as a strength that someone has that aspiration and feels that they've got that contribution to make," said Roberts.
"The important thing is that there's trust between those people involved.
"There's a 100% commitment to succeed whoever's in whichever role."
If Roberts is not part of Giggs' management team, he says the two must develop a good working bond.
Roberts added: "If it doesn't work out that I continue with the team Ryan and I will have to have a great relationship regardless, because in my role as technical director, planning for the future, and Ryan's role as national team manager, planning for the here and now, that relationship and that co-operation and collaboration is key."